Puako Bay is located on the sunny west coast of The Big Island. While its beach is small and rocky, there is something special that attracts visitors. The real treasure at this bay lies underwater, making it an excellent destination for snorkeling and diving. But before you visit Puako Beach for snorkeling or diving, there are a couple of things that you need to know. In this article, we'll explore the fascinating world of Puako Beach, where marine wonders await beneath the surface.
Where Is It Located?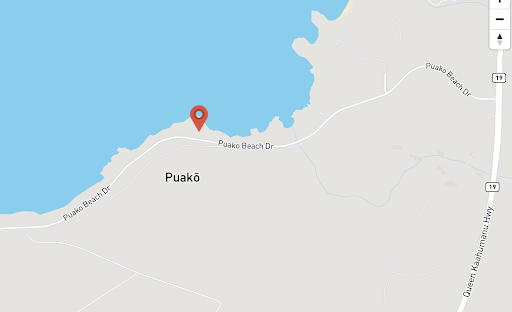 Source: Hawaiian Beach Rentals 
Puako Beach Hawaii is situated along Puako Beach Road, Kamuela, HI 96743, with GPS coordinates 19.969254, -155.843601. It is approximately 6.5 miles south of Kawaihae Harbor. To reach Puako Beach from Kona International Airport at Keahole, you can head north along Queen Kaahumanu Highway (Highway 19) for about 22.5 miles. Then, make a left turn onto Puako Beach Drive. As you follow this road, you'll find the shoreline access points just beyond the boat to the end of the road.
Where Is Puako Hawaii? 
Puako is on the west side of Hawaii's Big Island, with easy ocean access. It's near top-notch shopping, dining, and luxury resorts, making it an ideal destination for a memorable Hawaiian experience. 
Amenities At Puako Hawaii 
At Puako Beach, visitors can enjoy several shoreline access points, which make it easy to get to the water. The beach also provides convenient amenities like portable toilets for restroom needs and parking facilities for those arriving by car. For water enthusiasts with boats, there is a boat ramp available for easy access to the sea. Diving enthusiasts will find the beach particularly appealing, as it offers excellent opportunities for underwater exploration and discovery.
What To Do At Puako Bay? 
At Puako Bay, there are plenty of exciting activities to enjoy. One fun activity you can do is dive into crystal-clear waters and discover the mesmerizing marine life beneath the surface. For those with boats, you can set sail from the convenient boat ramp and explore the captivating coastline. Snorkeling enthusiasts can also have fun. They will be delighted by the rich underwater world, brimming with colorful fish and vibrant coral reefs. If relaxation is on your mind, spend quality time with your family at the small part of the beach, where you can unwind and cherish breathtaking sunsets together. 
Is There A Lifeguard At Puako Beach?
No, there is no lifeguard at Puako Beach.
Things To Keep In Mind When Visiting Puako Bay 
When visiting Puako Bay, it's essential to be mindful of some important things. During the winter months, the waves can become higher, and there may be stronger rip currents, leading to rough and dangerous conditions. Also, it is important to stay cautious and safe while enjoying the beach. 
Visitors should be prepared for windy weather as it is prevalent during the winter season. Keep an eye out for Portuguese man-o-war jellyfish around 10 days after the full moon, as they can sting and may be present in varying numbers. 
It's a good idea not to leave any valuables in your car at any time to avoid theft. 
Is Nudity Allowed At Puako Beach?
Nudity is illegal in the area. Please follow local laws and show respect for the community and its norms during your visit to Puako Bay.
Final Thoughts – Puako Beach Hawaii
Puako Beach on the west side of Hawaii's Big Island offers a unique and enchanting experience for visitors. Though the beach itself may be small and rocky, its true allure lies beneath the surface. With abundant snorkeling and diving opportunities, Puako unveils a mesmerizing underwater wonderland. If you're planning to visit this beach, there are a couple of things that you should be aware of. Remember, there are potential hazards during the winter months, such as higher surf and jellyfish presence, which is why you should always prioritize safety when exploring this bay.