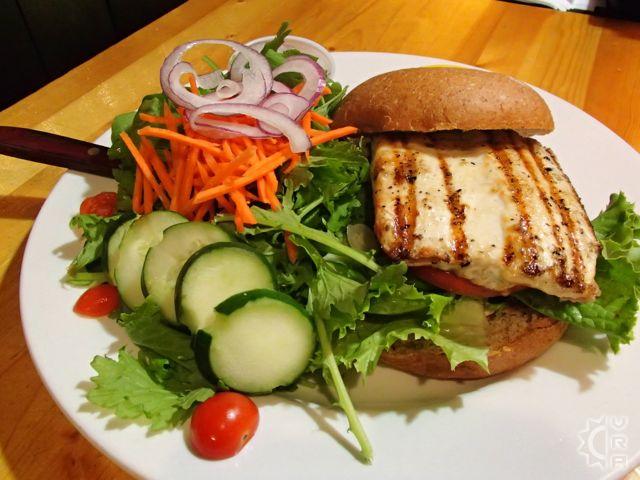 Description
In the area of Maui known as Haiku, a once thriving pineapple plantation town has made way for lots of great countryside estates and rentals. Whether staying in Haiku, or driving through on your way back from the road to Hana, you are going to want to know Colleen's at the Cannery, for breakfast, lunch, or dinner. This restaurant is a great option for any meal, as they consistently bring quality dishes at affordable prices to your table, no matter what your taste or preferences.

At a Glance:
Cuisine: American/pacific rim
Price: $/$$- $20- 40
Location: Haiku, Maui
Hours: daily 6: a.m. to 9:30 p.m.
Environment/Dcor: like a hip caf you would find in the city. High ceilings, booth/ table seating. Good spot for a date, meal or a drink, but also family friendly.

Colleen's has been serving up great food since 1996, and is the "go to" eatery for many an "Upcountry" Maui resident. The food is consistently flavorful and well priced, with choices for all ages and diets. The menu shifts through the day, with the atmosphere of the restaurant shifting with it. Bright morning coffee shop shifts to relaxed lunch service, and then to bustling candle lit tables come alive with conversation and laughter in the evening.

The non-descript exterior of this once fully operational pineapple cannery hides this treasure within. Colleen's works for many pallets, and especially rewarding on the gourmet level for those who appreciate fresh, local, and organic ingredients, which make this menu come alive with every dish.

Pizzas start after 4p.m. with slices readily available until closing. If staying in the area, order up a custom to go pie with 30 minute turn around time, and made gourmet with your custom toppings.

Our staff recommends:
The "Upcountry Beef Burger" is one of the best burgers on Maui, adding a side of batter cooked fries and a "lava man red ale" on tap and you are set for a very filling meal. We also recommend the carrot ginger soup, and numerous salads for vegetarian faire, plus the fresh catch dinner entre is an "over-the-top" flavorful fish experience.

Contacts:
Ph: 808.575.9211
Web: http://colleensinhaiku.com

Address:
In the Haiku Marketplace
810 Haiku Road,
Haiku, Hawaii 96708

Directions:
The Haiku Market Place is off of Haiku Road, which intersects the Hana Highway.
A 10 minute drive from Paia town, heading east on Hana Highway.

Map