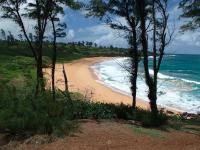 View All Hikes
Expert Kauai
Vacation Advice
Insider Tips
Huge Selection
(844) 261-0464
Our Local Agents are Available
All Day, Every Daysurf conditions permitting!
Call us today to experience the difference.
About Kauai Hikes
The island of Kaua'i is home to some of the best hiking in the Hawaiian Islands. With a relatively small area of the island developed, it is easy to take a trail that quickly gets you deep into nature. The State Park at Koke'e provides the contrast of Hawaiian mountain top rainforest in one direction, and the scenic Waimea Canyon rim in the other. Even close to the east side resorts there are several great hikes that provide exercise and a deeper sense of peace as you walk the trails.
Whether an experienced hiker, or a relative new comer, Kaua'i hiking will not disappoint as long as you are prepared before you go. Check the weather, check your gear and take a walk on the wild side.

At a Glance:
Highlights: A great activity for exercise plus you can get deeper into the natural beauty of the islands while exploring.

Activity Level: Mild to strenuous

Options: A private, or professional tour provider can take you to a variety of locations. Research via web or through trail guides can give you great self-guided hike. The State Parks have marked trails and orientation for safest self-guided touring

Warnings!: Hazards vary by terrain, but the islands are inherently lava rock that is brittle, jagged, and often unstable. Be aware of unstable rocks or boulders in the hiking environment, watch for slippery algae covered rocks by streams or ocean edges. Flash flooding can occur in streams so be aware of the weather in the area and mountains above. Before venturing into the islands hikes it is best to be prepared for the conditions at hand, sunscreen, hydration, rain protection, and bug repellent are all recommended preparations before going hiking in Hawai'i.

Price Range: $0 to $150 per person

Our Top Kaua'i Hikes:
1. Napali Coast Trail
2. Pihea Trail, Koke'e State Park
3. Waimea Canyon Trail, Koke'e State Park
4. Sleeping Giant, Nounou East Trail

Public Resources:
The State of Hawai'i maintains a trail system throughout the islands, visit this website for details: http://hawaiitrails.ehawaii.gov/island.php?island=Kauai

Hawai'i State Parks:
http://www.hawaiistateparks.org/parks/Kauai/

Local Weather Link:
http://www.hawaiiweathertoday.com/kauai.php

Doppler Rain Radar Link:
http://radar.weather.gov/ridge/radar.php?rid=hki&product=N0R&overlay=11101111&loop=no



Also consider 2 Kauai hotels and 303 Kauai vacation reviews.
SearchPlacesFavoritesContact