Haleakala Princess Cottage
#33481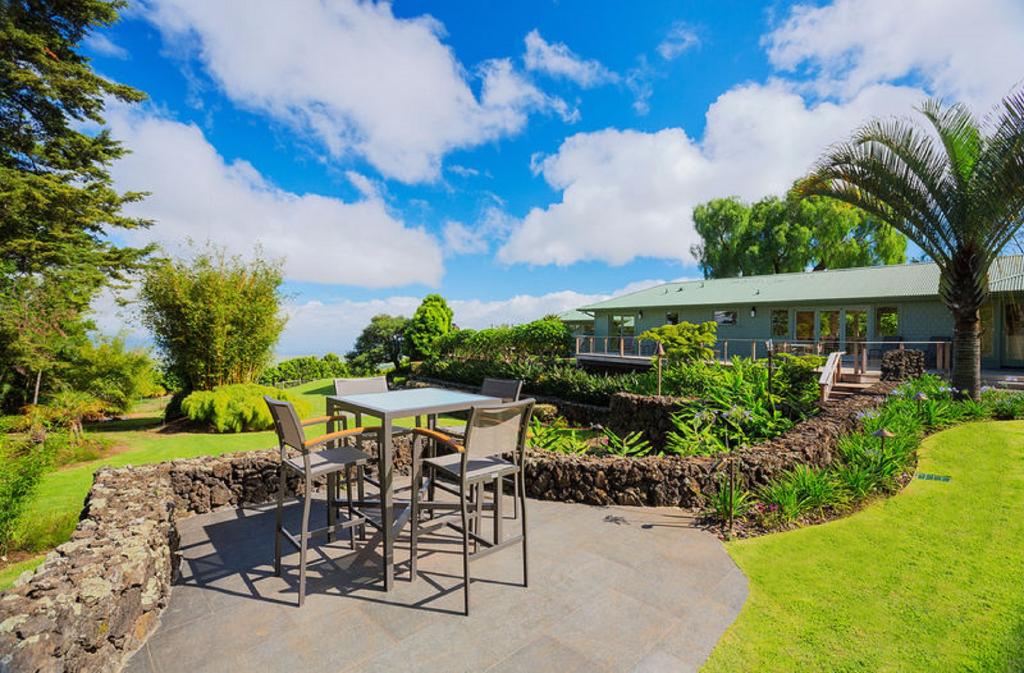 2 bedrooms, 2 Baths, Sleeps 4
Kula Cottage Rental Description
Tax ID# TA-001-935-7696-01. Permit # STMP2014-0001.

This is a legal permitted vacation rental #STMP 2014-0001.
Nestled on the slops of Haleakala with a view from coast to coast!. Enjoy your vacation in the home built for a Hawaiian Princess; Abigail Kapiolani Kawananakoa. Careful attention has been paid to every detail, from the gardens to the interior and exterior of both the Main House and the Guest Cottage.
Haleakala Princess Estate is in upcountry Maui, in the small rural town of Kula. Kula can be considered the "heart" of Upcountry. The climate here is cooler, with mists swirling in the valleys and groves of eucalyptus sheltering pastures full of cattle. Kula is also the habitat of the exotic Protea flowers and several farms grow acres of the many different varieties that are shipped all over the world. Kula onions are said to be among the sweetest in the world. As you drive through Kula, you'll see pasture land with cows, horses, goats or sheep, farm land with flowers, vegetables, lavender, or fruits.

Haleakala Princess Estate has two vacation homes:
1) the three bedroom Main House and
2) the two bedroom Guest Cottage
These can be rented together to accommodate up to ten guests.
Each home has a private gated entrance, private parking area and a private garden. Each has a private hot-tub (NOT shared).
The two dwellings sit close to each other, but look in opposite directions, so that they do not interfere with the other dwelling.

HOUSE RULES:
We are delighted that you are considering this property for your vacation lodging. We are sure that you would enjoy this lovely vacation home.

This property has a vacation rental permit issued by the County of Maui, and is subject to the rules and restrictions imposed by the County for all short term rental homes. Please understand that we would be unable to accept a rental that does not agree to abide by these rules. Note: properties without a short term rental permit are subject to closure by the County.
1. Neighbors - Please be considerate of our neighbors. Noise carries easily to their homes, particularly in the evening. NO loud music, NO parties, NO amplified sound of any nature at any time. Many neighbors must be up early in the morning to go to work, and its important that your use of this property does not impact them in any way.
2. Quiet Hours - Quiet time is from 9pm to 8am.
3. Use of the Property - Additional friends/family CANNOT be invited to the property and it cannot be used as a meeting place. The property can be used ONLY by the guests listed on the rental agreement. The County law allows us to accommodate a maximum of two guests x the number of bedrooms.
4. Parking - There is plenty of parking on the property. Vehicles CANNOT be parked on the street at any time. When vehicles are on the street, there is insufficient space for emergency vehicles, fire trucks, the trash truck or neighbors to get down the road.




Features and Amenities
Property

2 Bedroom Cottage
2 full bathrooms
Ocean View
Mountain View
Garden View
A/C
Number of Floors: 1
Another Rental on Property
Yard
Iron/Ironing Board
Heat Only
Ceiling Fans
Deck Furniture
Beach Towels
Dryer
Outdoor Furniture
Linens
Washer
Safe/Strongbox
Beds

1 king bed
1 queen bed
On-Site Facilities

Private Hot Tub
BBQ Pit
Grill
Beach Chairs
Kitchen

Fully Equipped Kitchen
Blender
Refrigerator
Oven
Microwave
Dishwasher
Toaster
Garbage Disposal
Coffee Maker
Internet/Computer

Wireless Internet
High Speed Internet Access
Entertainment

VCR
Hi Def Television
Books
DVD Player
Satellite/Cable Television
Phone
Local Calls Included
Suitability

No Smoking
Elderly Friendly
Child Friendly
No Pets
Singles
Sports

Fishing
Mountain Biking
Wind-Surfing
Horse Riding
Kayaking
Golf
Cycling
Surfing
Tennis
Walking
Hunting
Diving
Swimming
Sailing
Theme

Adventure
Family
Sightseeing
Farm Holidays
Romantic
Beach
Rural
Cultural/Historic
Food/Wine
Festivals
Activities

Sightseeing
Photography
Golf
Beach
Shopping
Fishing
Food/Wine
Festivals
Hunting
Other

Maximum Occupancy: 4 people
Maximum Cars Allowed on Property: 2 cars
Rates
$295 per night. 30% down to hold a reservation. Balance due 75 days before check-in. $500.00 security deposit. $150.00 cleaning fee. 4% processing fee. Listed rates do not include tax. Holiday and peak season rates and required length of stay may be different than quoted above. Credit cards, cash, checks and wire transfers accepted. Minimum night stay varies amongst the various rental units. Many rentals have 30-night minimums. Permit number: STMP2014-0001. Tax number: TA-001-935-7696-01.
Map