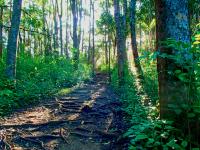 View All Hikes
Expert Oahu
Vacation Advice
No Booking Fees
Insider Tips
Huge Selection
(844) 261-0464
Our Local Agents are Available
All Day, Every Day
(surf conditions permitting!)
Call us today to experience the difference.
About Oahu Hikes
Oahu is a diverse and contrasting island containing the largest population of any of the Hawaiian Islands. One of the best ways to get exercise and explore the undeveloped and wild parts of the island is through the joy of hiking. Each section of the island has trails, both maintained and unmaintained that can get you started on finding your way deeper into nature. Even the most timid of explorers can try hiking with a sense of calm in Hawaii as we have very few hazardous plants or animals in our environment.

At a Glance:
Highlights: A great activity for exercise plus you can get deeper into the natural beauty of the islands while exercising.
Activity Level: Mild to strenuous
Options: A private, or professional tour provider can take you to a variety of locations. Research via web or through trail guides can give you great self-guided hike. The State Parks have marked trails and orientation for safest self-guided touring
Warnings!: Hazards vary by terrain, but the islands are inherently lava rock that is brittle, jagged, and often unstable. Be aware of unstable rocks or boulders in the hiking environment, watch for slippery algae covered rocks by streams or ocean edges. Flash flooding can occur in streams so be aware of the weather in the area and mountains above. Before venturing into the islands hikes it is best to be prepared for the conditions at hand, sunscreen, hydration, rain protection, and bug repellent are all recommended preparations before going hiking in Hawai'i.
Price Range: $0 to $150 per person

Our Top Oahu Hikes:
1.Diamond Head Summit Trail
2. Nakoa Trail, Ahupua'a O Kahana State Park
3. Makiki Valley /Tantalus Looping Trails
4. Makapu'u Lighthouse Trail

Public Resources:
The State of Hawai'i maintains a trail system throughout the islands, visit the website for details: http://hawaiitrails.ehawaii.gov/island.php?island=Oahu

Hawai'i State Parks:
http://www.hawaiistateparks.org/parks/Oahu/




Also consider 1 Oahu hotels and 1089 Oahu vacation reviews.
SearchPlacesFavoritesContact