Paddle with Turtles at Makena Landing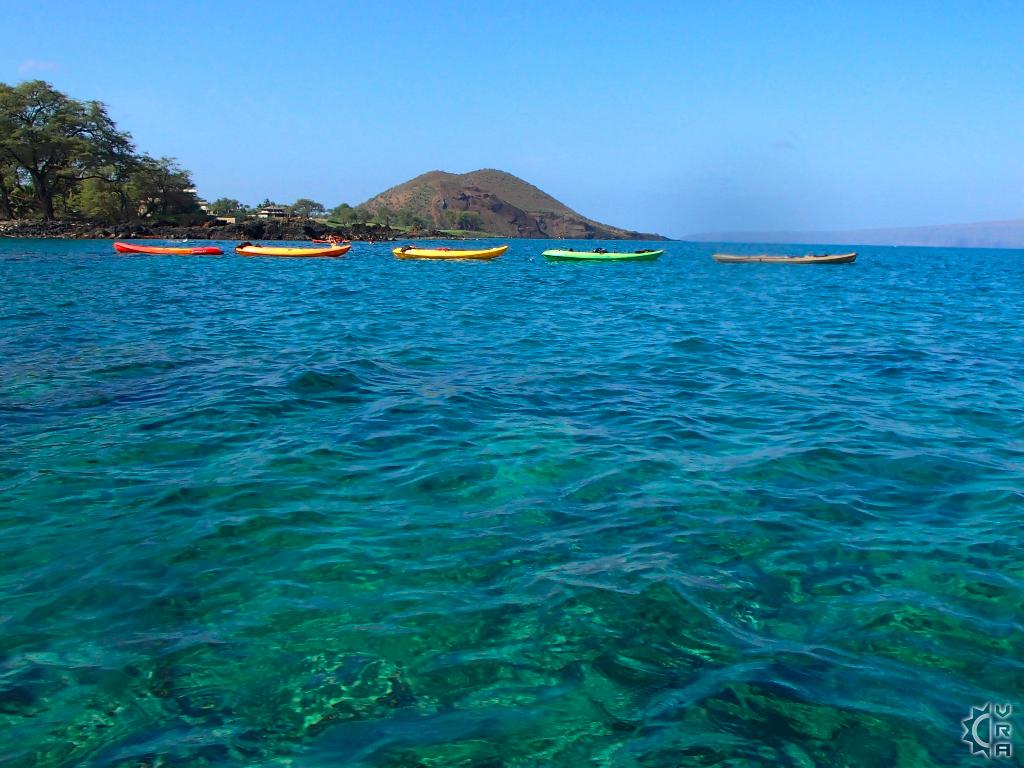 Paddle with Turtles at Makena Landing
Description
Makena Landing faces west toward the island of Kaho'olawe and the crescent shaped islet of Molikini. These islands help block large surf from reaching the bay and therefor it is well protected and has prevailing calm waters, especially in the mornings. The best kayak access point for south Maui's Wailea region, this deep set, wide reaching bay spans almost a mile across and has multiple diving locations. The bay also stays amazingly shallow until you get a hundred or more yards out, this makes the snorkeling and swimming far less intimidating then many spots on the islands. As a boat launch it is great for soft launches and landings, on a sandy beach with small waves.

At a Glance:
Highlights: Ideal kayak diving location that has amazing views of ocean and islands of Molokini and Kaho'olawe. Always a good chance at close encounters with sea turtles here.
Activity Level: Moderate, depending on your sea worthiness.
Options: Rent your own equipment and haul it down here, or register with a guided tour and have everything provided to you at the beachfront with a trained and experienced guide to show you the ropes, and take you snorkeling safely.
Location: Makena Landing is south of Wailea/Kihei, Maui
Hazards!: Pace yourself and you abilities, and do not exceed them. Be aware that the areas edging the bay front entry are lava rock and reef. Do not stand on the coral as it is a fragile living organism. Do not touch or bother the turtles as they are protected species.
Supplies: Ocean friendly sunscreen, rash-guard, hat, bathing suit, drinking water, and under water camera. 2 plastic bags, one inside the other for you water sensitive rental car keys.
Amenities: Restroom, showers, parking lot, and boat launch at the landing.
Reservations: Required for tours
Cost: $75 per person/adults for 2.5 hour guided tour. 8:1 guest to guide ratio. $55 per person kids 5 to 9 year of age. $129 per person private tours.

Kayaking:
With kayaks you can visit several of the hard to reach dive sites in the area. The kayak increases the range you can easily cover and provides support for taking float breaks and adjusting your snorkel gear. The obvious advantage here is having an experienced guide by your side, as the bay has many facets and nuances that the guides know best. The ocean conditions stay calm in this area, so with a guide you can cover a lot of areas that the bigger boats cannot access. Plus you have the bonus of a trained lifeguard watching over your experience in the water, and interpreting the action above and below the surface. Do you know what to do if a pod of dolphins surround your boat, or a whale comes to take a closer look at you? These things actually happen off the coast of Makena, and a guide knows how to keep you safe and sound when the big moments find you.

We Go! (or where to start:)
Once you have made your reservation for kayaking, get a good nights rest as check in is at Makena Landing at 7:15 with your tour departing at 7:45. It is the calmest part of the day to plan an ocean tour, as winds are light and the tides are favorable. Your guide has laid out the gear you will need on the beachfront. Once checked in, you may walk over to the public restrooms and get you sunscreen and other preparations underway. At launch time you will get some kayak basics instruction on the beach, and your guide will let you know how best to prepare your gear and yourselves for the days conditions. Kayaks are light and agile, and for most tours they are doubles, with 2 seats in tandem. This adds to the fun, be it a parent child bonding moment, or couples therapy, building a shared momentum through cooperation is a priceless commodity easily gained on this adventure.

Things you might see:
The ocean off of Makena Landing is teeming with life. Coral reefs grow atop lava flows and provide ample cover for a variety of species. Sea urchins, sea cucumbers, large and small reef fish, and green sea turtles all forage and rest amongst the rich underwater topography. During the whale season from November through April, occasional sightings occur as these massive migratory species train the newborns in the calm warm waters off Makena Landing. These waters are a portion of the Pacific Humpack Whale National Marine Sanctuary. The songs of this mysterious species can be heard underwater whilst snorkeling. Hawaiian spinner dolphins also range through the bay occasionally, on their feeding and resting cycles. Spinner dolphins are year round island species, and are known for their acrobatics above and below the water.

Hawaiian green sea turtles are the most commonly seen larger species of sea life in the area. Some have nicknamed the region "turtle town" due to the high numbers of turtles present. They can be seen bobbing for air at the surface, before diving down sheltering under lava rock ledges 10 to 15 feet beneath the surface. They are calm and often curious, but allow them to feel safe with you for best interactions. No touching or harassing the turtles is allowed. If you stay calm they will often express their curiosity and come closer to check you out.

Local's Tip:
Once your paddling mission is complete, you may want to drive to the south end of Makena Road and hit the sandy beach in front of the Makena Resort. A long soft light sand beach with a similar view as Makena Landing. It is a sweet place to lounge and reflect on south Maui seas.

To get there:
When you pass the famous Keawala'i Church look for the public parking on the left side of the road. The beach access is 100 yards further down the street on the right. You may want to drop of part of your party and your gear and send a designated parker out to parking lot. The parking area has the public restroom for this end of the beach

Recommended Kayak Provider:
As a leader in green, low impact sustainable tours, Aloha Kayaks Maui operates one tour daily from Makena Landing and limits the guide to tour participants ratio to 1:8. Keeping the focus on quality of tour and safety in and under the water. By phone at 808-270-3318 Or visit their website for reservations: http://www.AlohaKayaksMaui.com/

Directions:
Take Piilani Highway aka HI route 31 through Kihei, following as it curves and turns into Waiela Iki Drive. At the stop light at the bottom of the hill turn left onto Wailea Alanui Drive and follow for 1.5 miles looking for signage on the right for "Makena Landing". Turn right on Honoiki Road and follow to bottom of hill and stop sign. Turn right onto Makena Road and look for parking on roadside or in parking lot just past the restroom building.

Map