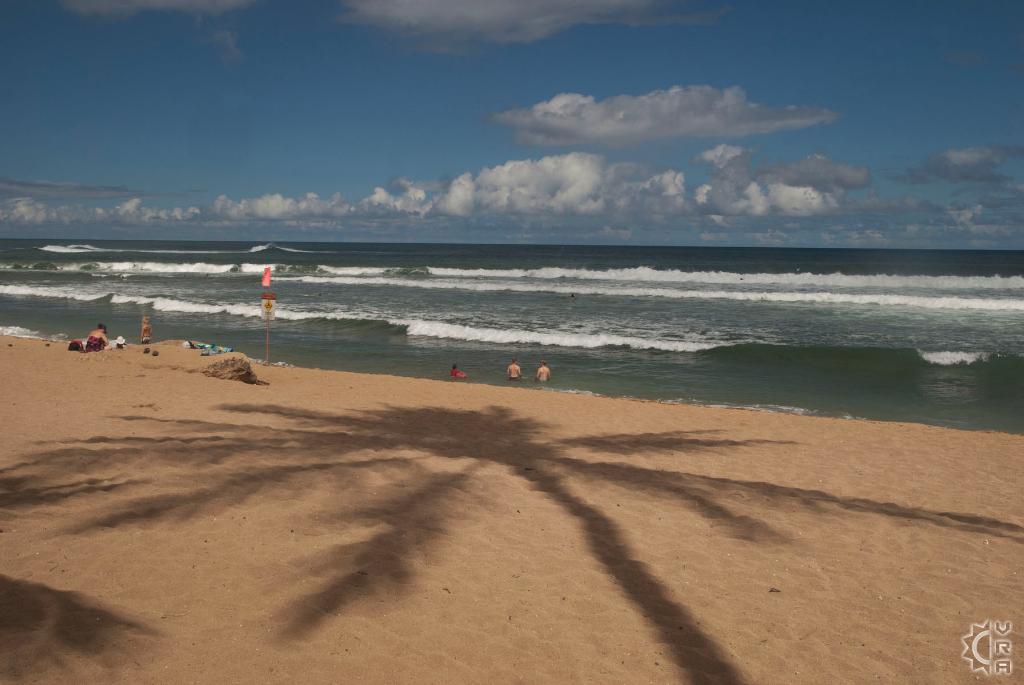 Description
A hub of activity for beach lovers in Haleiwa town, this park is spacious, covering 19 acres of land along the ocean and adjacent to the Haleiwa Boat Harbor. This beach has is a great panorama of breaking surf in the foreground, and a view of the the Waianae Mountain Range and Kaena Point in the distance. Portions of this park where used for the popular television series "Baywatch: Hawaii" and you can see why, as it truly is picture perfect.

AT A GLANCE:
HIGHLIGHTS: Easily accessible, and variety of beach activities, seasonal surf, great views.
ACTIVITIES: Swimming, snorkeling, surfing, boogie-boarding, stand-up paddling and picnicking.
LIFEGUARD: YES 9 am to 5:30 pm.
WARNINGS!: Lifeguards recommend that visitors check in with them, as currents can be present even on calm-looking days. Orange flags are posted when unstable conditions are present.
AMENITIES: Public restrooms, showers, picnic tables, ample shaded areas, spacious parking. Close to Haleiwa town center, with many shops and restaurants in the area.

This beach is the westernmost lifeguarded beach of the North Shore region of Oahu. While many North Shore beaches are very rugged, without many amenities, this beach is full of possibilities for comfort. The park is sprawling and filled with large monkeypod trees for shade, some with picnic tables under them. The beach itself is just off the parking area near the lifeguard tower, and it looks out at beautiful Waialua bay. Stand-up paddlers, surfers, Hawaiian outrigger canoes, and other types of boating can be observed on most days, making this site very entertaining, a great vantage-point for people-watching, with a great mix of local residents and visitors utilizing the area.

A central two-story building houses the "John K. Kalili Haleiwa Surf Center" which provides local children from all over Oahu with the opportunity to practice and learn surfing. The second story of the building was the base of operations during the filming of the t.v. series "Baywatch Hawaii" so you may recognize it if you have seen the show.

Swimming safety here is mixed and conditional, so please be aware of any posted warning signs with orange flags atop them. These indicate what hazards you might want to be aware of during your visit. A second Haleiwa park across the bay to the north has more sheltered swim area for days when Ali'i beach seems rough or not hospitable. That beach is referred to as "Haleiwa Beach Park" and is a 5-minute drive away, but has no lifeguard.

Adventure tip:
If traveling to the North Shore for the day, this park is a great start or finish to your adventure, as the town of Haleiwa is a gateway community and hub for services such as gas, food and other supplies. It is about 45-minute drive from Honolulu via highway through towns of Mililani and Wahiawa. Both towns also have food and supplies. Some traffic congestion is possible so plan accordingly. If you ever wanted to try stand-up paddling or long-board surfing, check out equipment rental companies and surf schools at the nearby Haleiwa Beach Park.


Ocean safety link for Ali'i Beach Park:
http://oceansafety.ancl.hawaii.edu/v/2.0/?bch=alii&shid=1&i=oahu

Closest town: Haleiwa
Directions:
From south side: head north on Kamehameha Highway/route 80 and proceed to a traffic circle. Enter circle and proceed to the 2nd exit onto HI-82/Waialua Beach Road for 0.8 mile looking for a right-hand turn onto Haleiwa Road. Proceed 1.3 miles, then turn left on Nalimu Road looking for park entrance with a sign, on your left.

From the north: head south on Kamehameha Highway/route 83 W and follow signs for "Haleiwa" to get to a right-turn lane and merge onto an extension of Kamehameha Highway. Drive past Haleiwa Beach Park, cross the historic bridge, and look for the first street on your right, Haleiwa road. Follow the road past the harbor entrances and look for park entrance ahead on your right.


Map