Turtle Bay - Kuilima Cove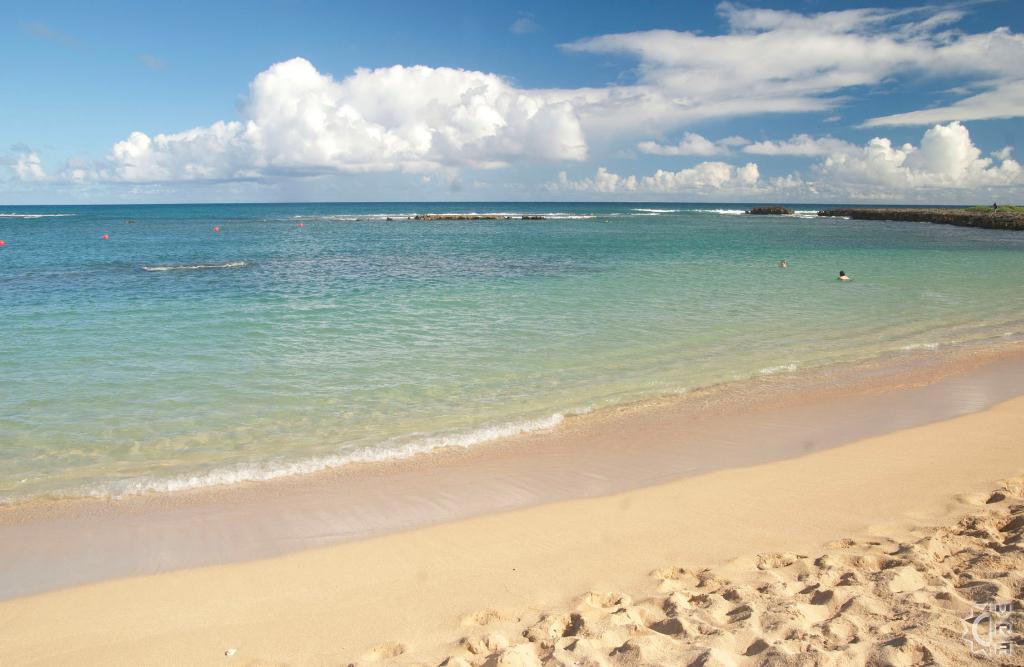 Turtle Bay - Kuilima Cove
Description
Turtle Bay / Kuilima Cove
On the northern tip of Oahu a set of scenic bays flank the famed "Turtle Bay Resort". The smaller of the two is protected from the deeper ocean swells by natural volcanic rock jetties making it a safe place to snorkel for visitors of all ages. The drive through the countryside to reach this area is beautiful, and the resulting reward is a perfect beach destination for relaxing in calming warm ocean waters.

AT A GLANCE:
HIGHLIGHTS: Well-protected crescent shaped snorkeling bay with panoramic views, close to Oahu's northernmost point, beautiful country drive to get there, and scenic beachfront.
ACTIVITIES: Swimming, snorkeling, beach walks, and laying on the beach.
LIFEGUARD: NO
WARNINGS!: Low reef starting at about 20 yards in, watch out for sea urchins and sharp reef edges. The outer bay may have some tidal surge and currents. Rock jetties are sharp lava rock and dangerous for walking upon.
AMENITIES: Numerous parking stalls marked "Beach Access", beachside showers and resort restrooms at the cove. Ola restaurant, a great place for lunch, is right next to the beach at the Cove; shoes and cover-ups are required for dining there. This resort sits on a prominent point jutting out to the northern ocean dividing two coastal bays. The larger, "Turtle Bay", is to the left, and a smaller sheltered cove to the right is called "Kuilima Cove". People often mean this small "Kuilima Cove" when they refer to swimming at "Turtle Cove". Both bays face north but are affected differently when surf comes from that direction.

Turtle Bay:Beware that during north swells the large bay on the left is not protected and should be avoided for snorkeling purposes. A great longboard wave breaks right off the point outside of the hotel's pool, making for some interesting surfing watching during swells. This bay has a rock-edged entry so prior to entering the water observe cautiously whether the conditions are suitable for swimming. At the bays edge, there is a little-known but famous piece of the "Pearl Harbor" history situated at the oceanfront next to a small walking bridge linking the resort swimming pool to its' cottages. Look for the large placard and signs that explain the significance of this place as a radar outpost during the WWII attack on Pearl Harbor.

Kuilima Cove: On the right side of the resort has a gorgeous beach. With its a crescent shaped cove of shallow turquoise waters, and a gently sloping beachfront lined with coco palms, it is what most people imagine when the dream of a Hawaiian beach.
The water here has good visibility and the fish are abundant. It also features the adjacent Kaihalulu beach that is great for long walks. The view stretches all the way to Kahuku Point, the northernmost portion of Oahu.
Snorkeling:
The best and safest North Shore snorkeling in the area, the Cove is a protected by natural volcanic rock breakwaters well-positioned to avoid most wave impacts. Local lifeguards even recommend it as the one place to avoid the deadly winter surf and currents, though the Cove does not have a lifeguard present, so be careful. There is a staff of beach attendants who work there, feel free to ask them about the days' conditions.

A line of orange buoys stretch midway through the Cove to mark the safer entry and swim area to the right of them. Water entry is sandy-bottomed and stretches out into the deeper water at this marked point. Once you begin to float, try to limit your feet movements from stirring up the bottom sand and sediment so that visibility stays good. Look closely in the shallows, and you may see crabs and other creatures buried under the sand for camouflage. Within 20 yards of shore the depth is shallow (6 to 8 feet deep), with flat layers of rock and reef below you. It is best to float flat in this area gliding gently over the reef without disturbing it. More fish will show itself the calmer you are and the closer you keep your hands to your body. Never stand on the coral, for it is a living organism and can be harmed by the contact.
Please, be aware of how far you go out into the outer bay, as currents become stronger during tide changes and waves.
Amenities:
The resort is your main outpost for civilization at this location. As tourism is our main economic driver, and the aloha spirit our guiding philosophy, visitors can often walk about the resort property if being respectful. The resort has signs indicating limitations and boundaries such as using the pool or guest facilities, but they will welcome your business in the food establishments and shops.

Adventure tip:
Strive to get here early, as it becomes crowded here as the day progresses. Traffic and parking problems are eliminated if you get an early start. It is best to bring all the necessary supplies with you or shop en route as there is very little shopping in the area except for the resort.

Closest town: Kahuku
Directions:
HI-83 E/Kamehameha Highway
There is little else in the remote region where Turtle Bay Resort is located. When traveling in either direction on Kamehameha Highway, look for the oceanside golf course with the long green and red flowering hibiscus hedges. The entrance to the resort is well-signed and is on the ocean side of the highway, between mile markers 12 and 13, closer to the middle of the golf course. Look for Kuilima Drive.

Parking: Follow Kuilima Drive to the resort. As it divides past the entry guard station, take 2nd or 3rd right-hand turns. Look for the parking in the furthest row back towards the 2-story buildings on the waterfront. The stalls marked "beach access" are for public parking; the rest of the parking lot is for resort guests only.

Address:
57-091 Kamehameha Highway
Kahuku, Oahu, HI 96731


Map