Mokupapapa Discovery Center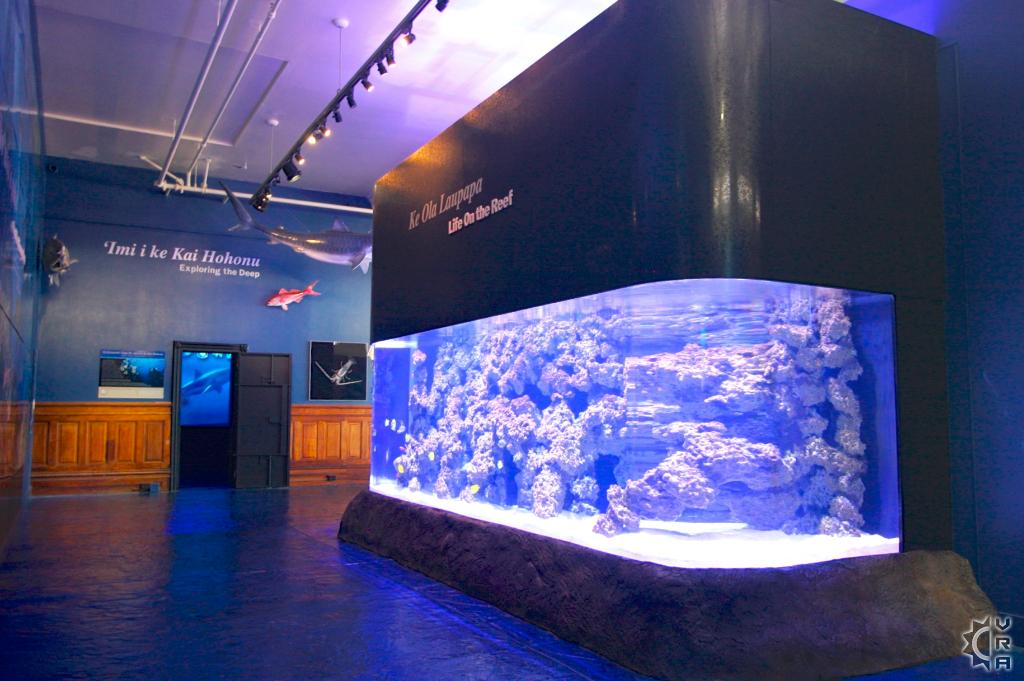 Mokupapapa Discovery Center
Description
In order to educate the public about the remote portion of the Hawaiian Islands known as the Papahanaumokuakea Marine National Monument, the Mokuppapa Discovery Center was founded in 1983, and based in Hilo, Hawaii. The mission of the center is to "bring the place to the people" with interactive exhibits, a 3,500 salt-water aquarium, and a small theater this free attraction is a great stop on any Hilo explorations.

At a Glance:
Highlights: It's free! A 3,500-gallon saltwater aquarium, lots of interactive exhibits, life size models of species, and educational programs detailing Hawaiian marine wildlife found in the Papahanaumokuakea Marine National Monument.
Hours of Operation: Tuesday Through Saturday 9 am to 4 pm.
Location: downtown, Hilo, Hawaii

The Hawaiian Islands are very well known through out the world, but this knowledge is often based on the "main islands". The archipelago itself is made up of a total 132 islands, atolls, and shoals with the largest portion set aside for a natural preserve for the marine wildlife that thrives there. We call this sanctuary "Papahanaumokuakea Marine National Monument" and it is the most remote portion of the island chain, which few ever see.

Opened at its current location in spring 2014 in a historic Hilo bay-front building, the Mokuppapa Discovery Center is expanding its resources and will be adding new portions to its museum in the years to come. The moment you enter the building you have much to choose from, a large expansive main room has maps, art, and photography inviting you to discover the hidden world of Papahanaumokuakea. The 3,500-gallon saltwater aquarium tank is surely the hit with the kids, as fish swim in and out of the coral reef allowing closer observation. For the overview of the sanctuary and its bigger species such as sharks, enter the small theater that gets you a view of the larger species that are best seen on the screen. A looping film shows great underwater footage gathered by the marine biologists that tend to this precious marine preserve and monument.

As this education center is all about learning, several stations for hands on explorations by children are set up through out the facility. This makes for a nice kid-friendly oasis while visiting Hilo town.

Contacts:
Phone: 808-935-8358
Website: http://www.papahanaumokuakea.gov/education/center.html

Address:
76 Kamehameha Avenue
Hilo, Hawaii 96720

Directions:
Easy to find at the corner of Waianuenue Avenue and Kamehameha Avenue.
Take HI-route 19 into Hilo and look for cross street Waianuenue Ave. next to the Wailuku Stream and Bridge on the North end of the bayfront.

Map