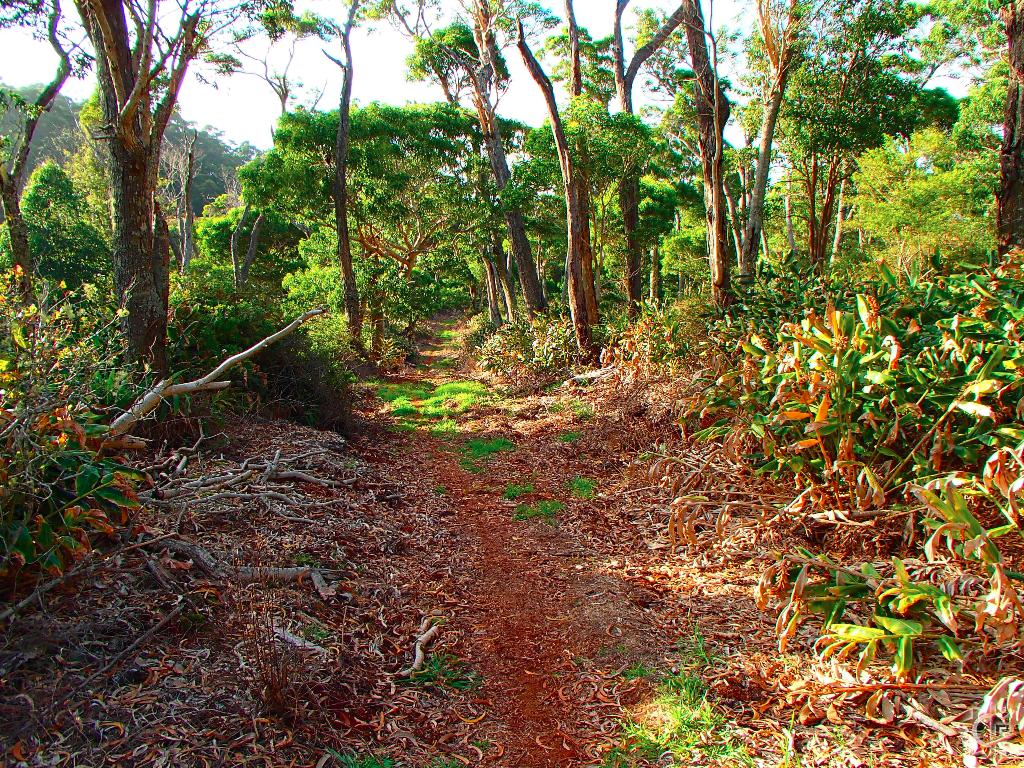 Description
Kalopa is a great hiking spot, as several trails can be inner connected to create a looping hike exploring the 100 acres of native, and 515 acres of introduced forest growing atop Kalopa Gulch. Maintained by the State Park System, these trails are some of the best forested trails on island.

At a Glance:
Highlights: On-site maps and guides to make the hiking educational, great for families and nature lovers. Fertile forests abound where layer upon layer of rainforest thrives with abundant understory.
Location: Outside Honoka'a on route 19
Activity Level: Moderate winding through moist mountainous forest conditions.
Equipment: Sturdy shoes, rain gear, water and food.
Warnings!: Stay on the trails, portions may be very slippery from the nearly 100 inches of annual rainfall.
Reservations: None needed
Cost: No fee

Kalopa State Park is situated on the north slope of the Mount Mauna Kea, known as the Hamakua Coast, and it is the wettest area of the Big Island. The high altitude 13,796 foot tall mountain above collects cloud banks daily, creating abundant rainfall that flows down through gulches and streams. The forest surrounding the gulches are living sponges of multiple layers of plants growth, both native and introduced. These layers slowly collect and release rainfall to allow the daily flow of the water cycle, aiding in the micro-climate of the rainforest. At Kalopa you can hike into a living classroom setup as a recreation area for families, students, and visitors to explore and learn.

Where to Start:
Nature Trail (0.7 mile loop)
This easy to follow trail loops through a teaching forest with 24 posted stations that correspond with a guide pamphlet available at the trailhead. There is interpretive guide for teaching you the native plant species growing in area. The native species came here before human species arrived. These pioneering species adapted to these islands and often grew in harmony with each other. If you walk this trail quietly, you may catch a glimpse of birds species that frequent the area.

Kalopa Gulch Trail (2.8 mile loop)
This trail is many trails inter-connected, starting at the trailhead along Robusta Lane. Turn right when the Lane connects with an uphill trail on the right at the edge of Kalopa Gulch. This trail climbs slowly over the next mile running the edge of the gulch. There are 3 different trails on the right, that intersect with this uphill trail. Any of these 3 trails will cut across to a jeep road which can take you downhill returning to the trailhead. By gauging your energy level, you can customize the length of this loop making for great exercise for all levels of adventurer.

Directions:

From Hilo: Drive Highway 19 north of Hilo 42 miles, looking for signs for "Kalopa State Park" on the left just after mile marker 39.
From Kona: Drive Highway 19 north from Kona 61 miles, looking for signs for "Kalopa State Park" on the right just after mile marker 40.
Map