Hanalei Pavilion Beach Park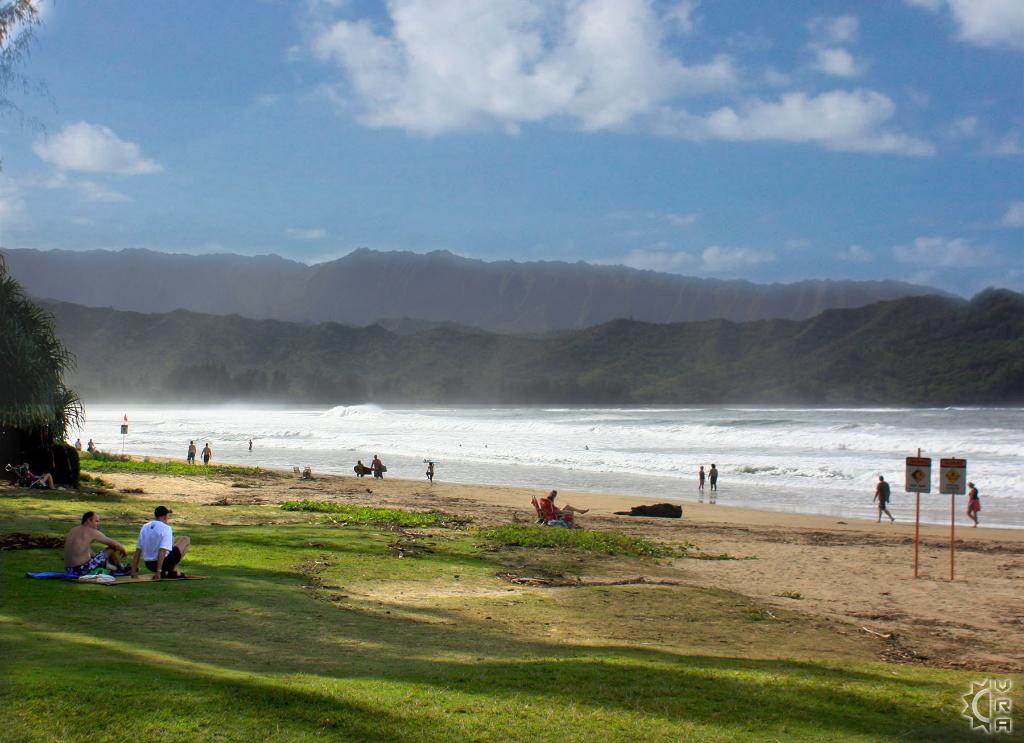 Hanalei Pavilion Beach Park
Description
This centrally located park in Hanalei town is home to a lifeguarded wide-open and sandy stretch of beach with a grassy park and picnic grounds. Dueling panoramic views of Makahoa Point to the left, and Pu'u Poa Point to the right of the bay are amazing. Sandy bottomed ocean makes for some fun waves for beginner body surfing and body boarding. The grassy park is an added bonus for a shade nap, or some game playing with the kids.

AT A GLANCE:
HIGHLIGHTS: Huge view of the picturesque Hanalei Bay, long picturesque beach, and some of the most fun ocean conditions in the area.
ACTIVITIES: Swimming, body surfing , body boarding, surfing, stand up paddling, beach lounging and picnicking.
LIFEGUARD: Yes 7 days 9 a.m. to 5 p.m.
WARNINGS! The sands shift here often making for shore break and sand bar hazards. Please check in with lifeguards for up to date safety information.
AMENITIES: Parking, restrooms, showers, picnic tables. Close to shops and Hanalei town center.

Hanalei Pavilion Beach Park is a great place to get active with long running and walking beach, or simply take a break and unwind. The central location of this beach access allows long walking options either direction down the beach. The sand here is compacted and has very little slope so it is perfect for running, jogging, or walking without stress to the body.

The view is spectacular in every direction, with jagged mountain ridges silhouetted against the backdrop of wind swept skies. While walking the beach, at times waterfalls are even visible inland, as heavy rains frequent the fertile landscape of mountains above the Hanalei town.

There are only 2 lifeguard towers for the Hanalei Bay, the ocean at this location is the more visitor friendly ocean playground of the two. The waves tend to roll in steady and consistent, but become hazardous during high surf. This can be a good place to practice some wave riding, or just viewing the surf as you relax and enjoy the day.

Adventure tip: Grab a to go lunch from Hanalei town and eat at the beach!
Check out nearby Hanalei Pier, or Waioli Beach Park for other access to Hanalei
Beach.

Closest town: Hanalei
Directions:
Kuhio Highway West/ HI-route 56 W, entering Hanalei town look for right hand turn onto Aku Road which is first street on the right once you reach the central portion of town. Follow Aku Road to the end, driving slowly, until the stop sign and make a right onto Weke Road and drive 25 yards looking for parking lot on left side of road. The lot is small but people do come and go often so just be patient.


Map