Pine Trees aka Waioli County Beach Park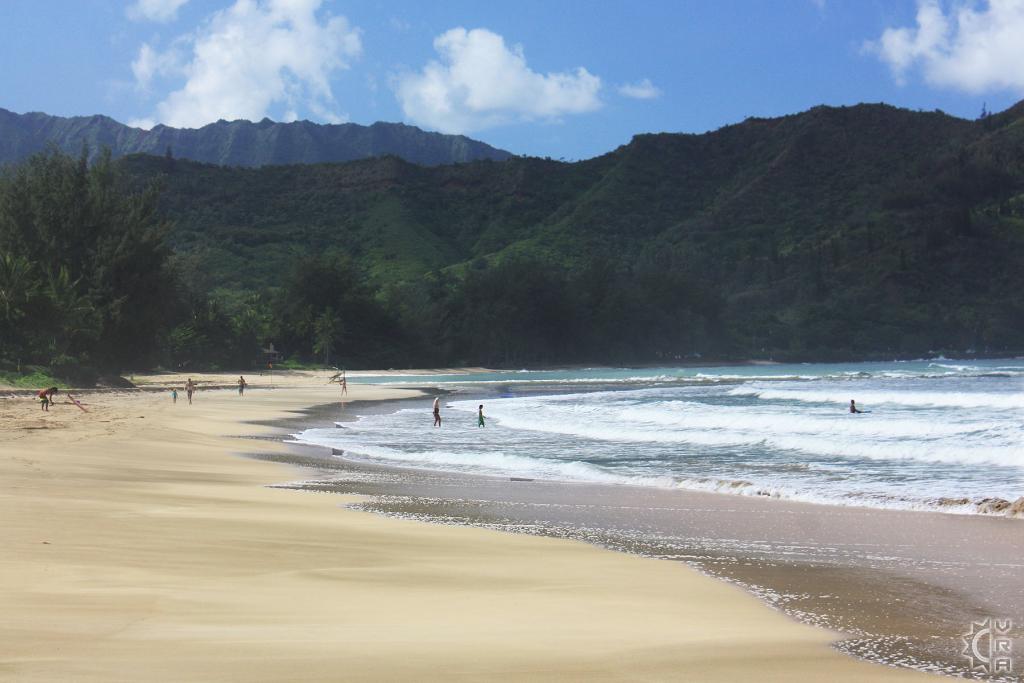 Pine Trees aka Waioli County Beach Park
Description
This is a popular spot amongst the local surfers of Hanalei Bay. On any given day a steady flow of surf connoisseurs arrive and begin scanning the horizon for waves. The vantage point from the beach here allows great viewing for several of the surf-able breaks of Hanalei Bay. In terms of losing the crowds, this is the more open end of famed Hanalei Beach and has more sand to expand on. Long walks with epic views in both directions are the added bonus of choosing this location.

AT A GLANCE:
HIGHLIGHTS: Huge view of the picturesque Hanalei Bay with wide soft sandy beach stretching out in each direction. Less crowded then other beaches in the area.
ACTIVITIES: Swimming, body surfing, intermediate surfing, beach volley ball, beach lounging & picnics.
LIFEGUARD: Yes 7 days 9 a.m. to 5 p.m.
WARNINGS! The conditions shift here often making for shore break and sand bar hazards. Please check in with lifeguards for up to date hazard information.
AMENITIES: Parking, restrooms, showers, picnic tables, and 2 sand volleyball courts

This spot is the lesser known of the Hanalei parks, without any signage it seems hidden, but it is actually very easy to find. Waioli County Beach Park, better known as "Pine Trees" is located on the western edge of Hanalei town, and is central to the crescent shaped Hanalei Bay and Beach. The green grass buffer between the soft sands and residential housing is forested with many ironwood pine trees which supply the local name for the location. With three separate and distinct parking areas supporting different areas of the park, it is easy to find a place to land here.
The park has 6.4 acres of lawns that stretch approximately 400 yards along the shoreline. There are benches through out, and 2 beach volleyball courts off the Ahea Road parking area.

The love of surfing and riding the waves is also highlighted here by the island-style homespun memorials to world famous locally born surfer Andy Irons. He and his brother Bruce grew up surfing this area and competed internationally inspiring generations of surfers in their wake. Andy passed away in 2010, and his fans have several artfully hand painted signs gathered around a large ironwood facing the ocean in his memory.

If choosing to swim or brave the waves here, check in with the lifeguards at their outpost on the beach front at parking area 2. The sand bar shifts at this location and waves have unpredictable consequences for the inexperienced. If in doubt, don't go out.

Adventure tip:
If the waves are too rough here, go to the Hanalei Pier aka Black Pot County Beach Park. Also recommended for calmer ocean is Anini Beach a 15 minute drive from here, just past Princeville.

Closest town: Hanalei
Directions:
Kuhio Highway/HI-route 56 West, while exiting Hanalei town look for the green church and local school on left, then make a right onto Ahea Road which is 100 yards past the school. Take Ahea Road to the ocean front and find parking.

There are two additional parking areas if you take the cross street Weke Road and look for either Amaama Road or Hee Road on the ocean side.


Map