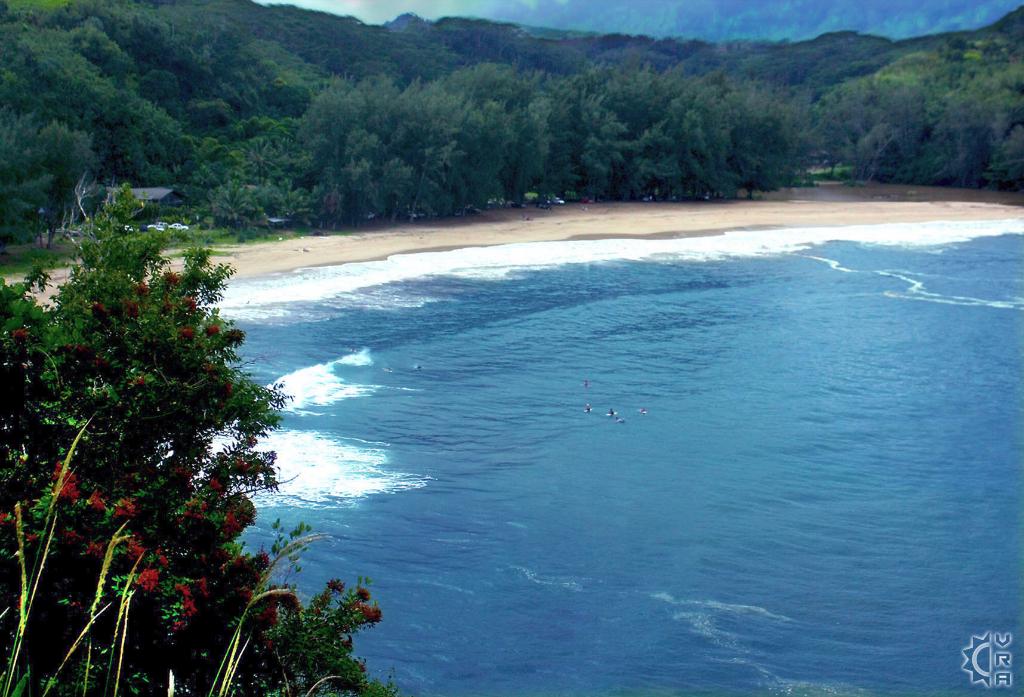 Description
A classic surfing bay and beach, Kalihiwai is a local favorite for easy drive up convenience and refreshing river access. A stretch of beautiful forest links the golden soft sand beach to the river. The result is plenty of shade parking and a riverfront scene reminiscent of slow paced Hawaiian days of old, with families picnicking and playing on the rivers banks.

AT A GLANCE:
HIGHLIGHTS: Gorgeous scenic and wild stretch of fine golden sand with the parking on the ocean front. Popular for families because of the river swimming option.
ACTIVITIES: Swimming, body surfing, long beach walk, and lounging.
LIFEGUARD: NO
WARNINGS! Please note the ocean conditions for your own safety, and avoid getting near the ocean during high surf or river flooding conditions that put a brown color in the water. If local surfers or ocean users are present do not be afraid to ask for safety advice. Summer is best safe ocean season.
AMENITIES: Easy parking, picnic bench, and portable toilet.

This beach is popular amongst locals during surf, or on most weekends. Families flock here due to the dual swimming options, with both river and ocean access side by side. The rich and fertile Kalihiwai Valley watershed empties upon the left end of this beach, avoid swimming in the river mouth and ocean connection.

The ocean here is to be respected! On calm summer days this is like a balmy backdrop to an old Hawaiian postcard, but in the winter the large surf and rain flooded stream combine to make conditions extremely hazardous at times. Observe the ocean, look for other swimmers or body boarders, if in doubt don't go out. Nearby Anini Beach is your safest destination on dangerous days.

The stream makes a good spot to practice stand up paddling or kayaking and you can go up it over a mile and go underneath the large highway bridge. Note the visible remnants of the pillars of the original Kalihiwai bridge which was washed out during a tsunami in 1957.

Adventure Tips:
Kalihiwai has a very different feel and mixture of elements that keep it slow paced and off the beaten path. When journeying to the North Shore of Kaua'i, there are many options for beach exploring, but none quite as charming. The uniqueness of this beach comes from the mixture of majority local users, and the distance from the main road and its hustle and bustle. The resulting combination is relaxing and refreshing contrast to the more crowded beaches.

Closest town: Kilauea
Directions:
From Kilauea:
Take Kuhio Highway/ HI-route 56 West through Kilauea town. Once you have passed the gas station on right, mile marker 35, then miniature golf course on left, prepare to turn right onto Kalihiwai Road.

From Princeville:
Take Kuhio Highway/ HI-route 56 East through Princeville, passing Princeville Airport, then crossing Kalihiwai River Bridge, and passing "Kalihiwai Ridge" on right. Look ahead for Kalihiwai Road on left, and prepare to turn.

Make the turn onto Kalihiwai Road and it will quickly bend left, follow the paved road and for almost a mile until it winds down into Kalihiwai Bay. Remember to drive slow in this area as you approach the beach, driving past the houses on left and carefully observing for pedestrian traffic. Parking is along the shoreline in the forest on right.


Map