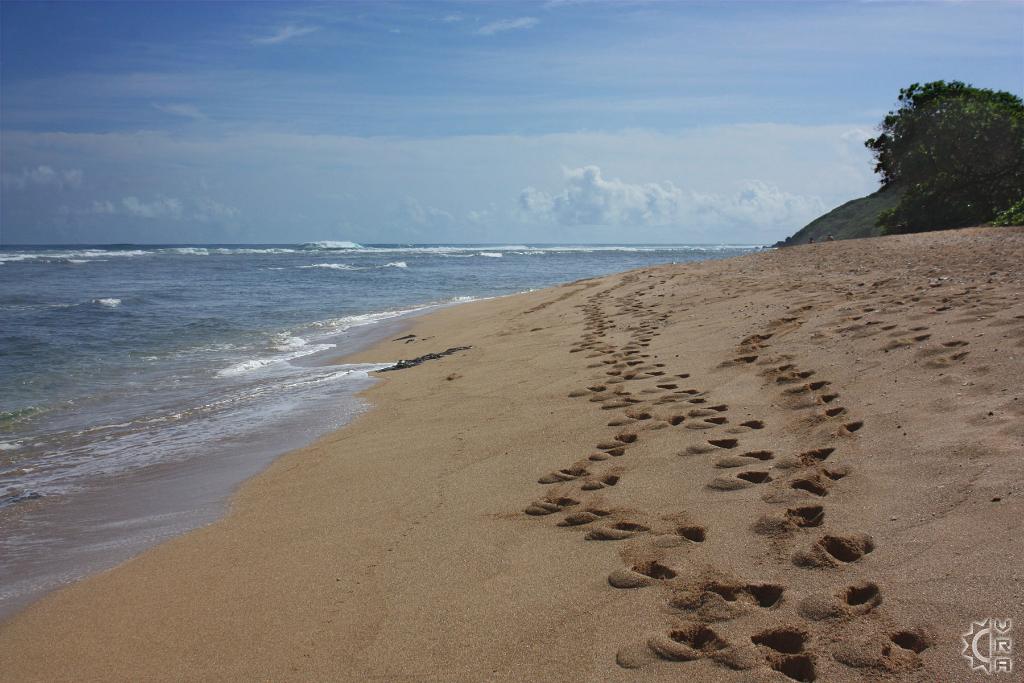 Description
A jewel of a beach, "Larsen's" is only accessible by a of a mile trail that winds through lowland coastal forest delivering you to oceanfront paradise like a modern day cast-away. An outer reef breaks up big surf, creating smaller waves that lap gently onto the beach. The mixture of wave sounds, and wind rustling in the shade trees lining the beachfront makes this a very restful North Shore destination.

HIGHLIGHTS: A very remote access beach, with a beautiful hike to reach it. Ample shade trees, great beach combing, and quiet except for the sounds of nature.
ACTIVITIES: Hiking, beach walks, shelling, and swimming when ocean is calm.
LIFEGUARD: NO
WARNINGS! Remote beaches require greater awareness from the ocean user.
The outer reef surf break makes inner area close to the beach seem much calmer, however tides and currents exist here at all times. There is a small area toward the center of the beach that is the wading area. Find it by look for the brightest color aqua blue down the coastline. Avoid snorkeling the ocean is too unpredictable.
If in doubt, don't go out! Consider a visit to Anini Beach or Anahola, nearby County Beach Parks with lifeguards.
AMENITIES: Ample parking, no restrooms, closest are in Kilauea town center.

The Hike:
When going to the beach requires a little hiking, then you know losing the crowds is a grand possibility. The walk to the coast from parking lot is near a mile and a half round trip from car to beach. Prepare for no facilities so make restroom stops before heading out, and bring your own necessities leaving only footprints as you depart.
The trail is Kaua'i red earth and slopes downhill, if it has been raining then expect slippery sections and some trail hazards. Real shoes are recommended, you can put them aside once on the sand.

On the Beach:
Noticeable crushed shells line up in rhythmic rows on the golden sands, their pulverized pieces a testament to the power of ocean to shape and form. That palpable element is in the air and makes Larsen's a very relaxing location for some major rest and relaxation. The constant rumble of outer reef surf breaking is in the background, and is visible from various highpoints along the beach. The sparkling near shore waters are an incredibly bright aqua blue color due to the shallows, and contrast the light white and golden sands of the beach.

If your Hawaiian dream is laying in the shade trees on a beach staring into blue ocean gorgeousness, then pack a hammock because this is a superb place on Kaua'i to live that dream. Low growing shade trees along the sands create the feeling of having a private beachfront cabana on a lost coast. Pack a picnic, or just come for a siesta, "Larsen's" will not disappoint and is certainly well worth the effort to visit.

Adventure Tip:
Since "Larsen's" is often questionable for safe swimming, a good approach to this beach is come earlier in the day then assess if swimmable. If the beach appears unsafe for swimming, the nearby Anahola or Anini Beaches are safer alternatives and only 15 minutes away. The only limitation on your time at "Larsen's" is food, water, and restroom so plan accordingly.

Closest town: Kilauea
Directions:
From the East/Kapaa:
Take Kuhio Highway/ HI-route 56 West through Anahola town.
Once you have passed the long uphill straight away inland and the road curves right, you will pass mile marker 19. You will be on the look out for cross street Kapuna Road and continue for 0.8 tenths of a mile looking for Ko'olau Road on the right.
Turn right and follow Koolau Road.
From Kilauea:
Take Kuhio Highway/ HI-Route 56 East through Kilauea. Travel west 3.5 miles and you will be driving through farm lands. The highway will bend right for a long stretch passing mile marker 20, be on the look out for Ko'olau Road on left.
Turn left on Ko'olau Road.

Ko'olau Road makes an immediate sharp right turn then straightens out, proceed for 1.2 miles passing long rock walls on left, and then a few houses on left, and then look for a left hand fork off Ko'olau. The road is has no sign, but is adjacent to a telephone pole, and mailboxes. A picture of the road entrance is in our photo gallery for this beach. Proceed down the dirt road as it makes a sharp left turn then runs downhill 1 mile to the dirt parking lot.





Map