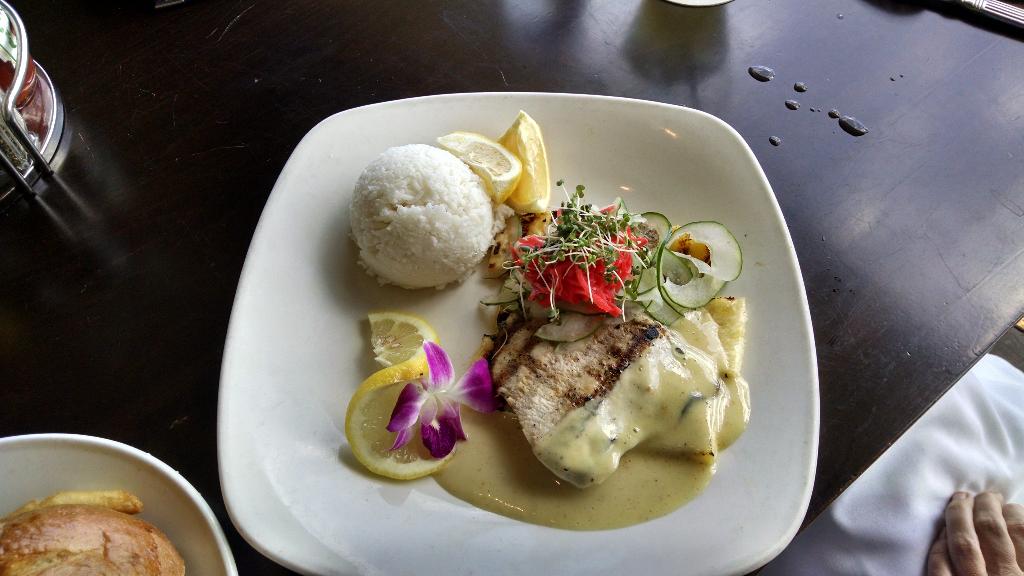 Description
For dining in a classic Hawaiian setting on the oceanfront in balmy Poipu, you can look no further then the aptly named Beach House restaurant. If you want the sunset make sure to place reservations and be ready for a packed house of lots of happy visitors and residents alike enjoying the Pacific Rim cuisine and ocean air through the huge open sliding glass windows. If your looking for less crowds but equal access to the delicious food, try the lunch seating and hit the beach for dessert, a perfect surf and turf experience.

At a Glance:
Cuisine: Pacific Rim/Hawaiian/Seafood
Price: $$/$$$$
Location: Poipu, Kauai
Hours: daily
Lunch: 11 am to 3:00 pm
Dinner: 5:30 to 8:30 pm September 17 to March 10; 6:00 to 9:00 pm March 11 to September 16
Environment/Dcor: Classic Hawaii, modern Polynesian dcor meets oceanfront as the restaurants location is surrounded by 180-degree views of the surf and facing sunset.

We had heard a lot of hype about the Beach House, it's well reviewed and popular which can sometimes make a restaurant put on cruise control and just stay within its' success model. Not so with the Beach House, as it is owned and staffed by a team of restaurateurs that source local fresh ingredients, and put them to creative use. The menu has innovative approaches to the preparations and presentations, which bring out freshness in surprising flavors. The fresh catch herbed fish presented on a pineapple slab for instance, with savory and sweet flavors in the same dish made for a great contrast.

Even just stopping in for "pupus", the Hawaiian word for appetizers, or a cocktail makes for a memorable moment at the Beach House. Dinner service features valet parking curbside, but self-parking at the "beach access" parking area across the street is your only daytime option.

Visit the nearby Spouting Horn, before or after your meal: http://www.hawaiianbeachrentals.com/Hawaii/Kauai/Poipu/thingstodo/SpoutingHorn.htm

Our Staff's picks: Drinks: Killer Margaritas! Pupus: Crispy Panko Crusted Calamari! Entrees: The Kailua Pork Sandwich, and the Grilled Fresh Herb Hawaiian Catch were dynamite.

Contacts:
Phone: 808-742-1424
Website: http://www.the-beach-house.com/home.html

Address:
5022 Lawai Road
Koloa, Hawaii 96756

Directions:
Driving from Lihue on Kaumualii Hwy. (Hi-50W) turn left onto Maluhia Rd. (HI-520) the "tree tunnel" roadway follow to end. Turn right onto Koloa Rd. (HI-520) go 100 yards then turn left on Poipu Rd. at Chevron Station intersection. Proceed to the
roundabout and turn the second slight right onto "Lawai Rd." following signs for "spouting horn" and "kuhio beach" look for 5022 Lawai Rd. is on the left, with parking across the street. Valet parking for dinner, self park on right across from restaurant for lunch.




Map