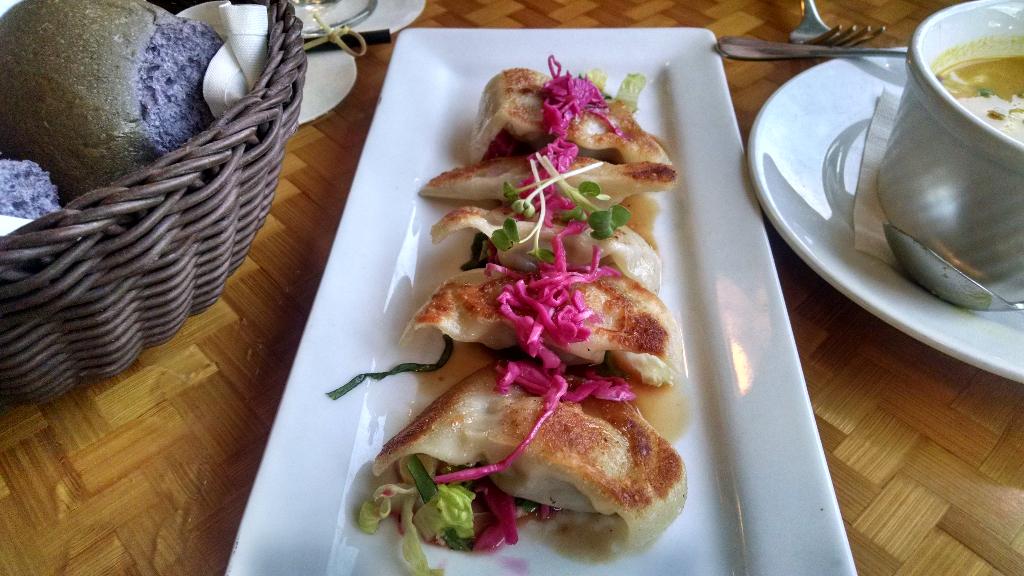 Description
An oasis of fine dining, hidden amongst the resorts of Poipu, the Plantation Gardens, Restaurant and Bar utilizes a renovated 1930's era plantation house as its platform for serving amazing food and drink. Chef Kannon creates surprising contemporary twists on familiar and unfamiliar dishes. The full service bar pours some of the most affordable high-quality mixology we found in the area.

At a Glance:
Cuisine: Pacific Rim/Hawaiian/Seafood
Price: $$/$$$$
Location: Poipu, Kauai
Hours: daily
Dinner 5:30 pm 9 pm
Bar 5 pm to 10 pm
Environment/Dcor: A great hidden location surrounded by a botanical garden that feels like an old Plantation house with some modern dcor twists.

Friends on Kauai told us about this one, and we found it to be a great dining experience in both atmosphere and quality of service. Every staff member greeted us well, and we found the servers to be top notch. Come before the sunset and stroll the gardens for some great picture opportunities, from the orchids to cactus, and the koi fishponds making for great backgrounds.

The "Moir Gardens" were originally a hobby garden created by the Koloa Plantation managers wife, and grew into this elaborately terraced wonder now surrounding the restaurant. Seating on the open-air lanai, gives you views of the former plantation managers estate and the cool evening air is a treat, as Poipu afternoons can be hot by Hawaiian standards. Making reservations is best for lanai seating, the bar is open to drop ins.

You will notice immediately that this place can cater equally to a romantic dinner, or a family of eight without the place feeling overwhelmed. The appetizers (pupus) menu was so appetizing you can try many options with cocktails to keep it lite. The entrees are robust and stacked in artful ways. During our visit, we chose to split a large entre, which they brought in half portions on separate plates with same artful presentation. No extra charge for the split.

Our staff's picks:
Drinks: Cucumber Mojito, Sun Burst Margarita, and the Sweet Li Hing Mui Margarita were truly outstanding and flavor filled, som of the best drinks found on Kauai. Pupus: OMG the Crab Rangoons! Pork potstickers, (or split warm shrimp salad for two) Entre: Seared Rare Ahi, and the Country Fried Chicken (felt mom made and was a refreshing choice after lots of gourmet eats and cocktails).

Contacts:
Phone: 808-742-2121 for reservations
Website: http://www.pgrestaurant.com/

Address:
2253 Poipu Road
Koloa, Hawaii 96756

Parking tip: Free parking in either the Kiahuna Plantation resort, or the "beach access" parking which is much closer but on the rear of the property. Reachable by Hoonani Rd, just past the Sheraton Resort, then on the left, with signage "beach access parking".

Map