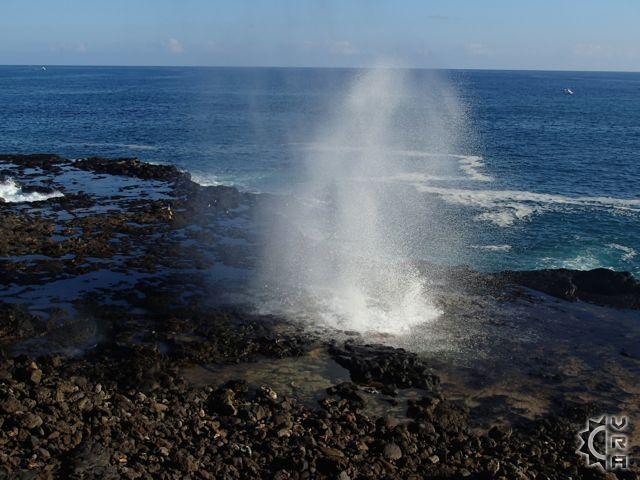 Description
A "Blow hole" is one of the scenic wonders that occur in the Hawaiian Islands where the cooled lava rock meets the ocean. The most famous of these is on Kauai and called the "Spouting Horn" and is located in the southern town of Poipu. Easily reached by paved roadway and ADA accessible with paved level walkways. Don't be discouraged by the many tourists frequenting this spot, as turnover is quick and the adjacent 4.4 acre park has room to picnic or pause from your day of exploring Kauai.

At a Glance:
Highlights: This natural wonder along the scenic Poipu coast draws crowds to witness the ocean spray shooting out of lava rock, like a geyser up to 50 ft. in the air.
Location: Poipu, Kauai, Hawaii
Hours of operation: daily, no hours officially, but best in daytime toward afternoons.
Amenities: comfort station with bathrooms, shopping stalls with vendors.

Hawaiian legend tells of a "Mo'o" or lizard guarding this area and making fishing and enjoying the shoreline dangerous. Then one day a boy named "Liko" went into the ocean and challenged the lizards domain, in the battle that ensued the boy put a sharp stick in the lizards open mouth preventing it from closing. Angered the lizard charged after Liko who swam into an ocean lava tube with lizard in pursuit. Liko ended up escaping out the blowhole trapping the lizard inside for the good of all the people in the area. The blast of air that roars out of the blowhole is said to be the lizards roar.

This naturally occurring phenomenon is very tidal and wave dependent. The waves from the ocean get compressed into the remnants of lava tubes that stretch from the ocean under the lava rock shelf below the spout lookout. Therefor the bigger the waves on the South Shore and the higher the tide the bigger the propulsion of forces that work together into making the spouting water fly higher. Similarly on a wave-less day there will be very little spout. Though not as spectacular a natural wonder as the Waimea Canyon or Na Pali Coast, Spouting Horn is worth checking out if in the Poipu area. There is a small outdoor mall of crafters who sell their local wears during the peak daylight hours. There are also a lot of free range chickens scurrying about in the park.

Directions:
Head south on the Poipu Road until you merge into the "Welcome to Poipu Beach" roundabout. Follow the signs for "Spouting Horn" (second exit on right) and continue along the "Lawai Road" for approximately 2.5 miles until the road dead ends at the Spouting Horn public park. There is plenty of free parking available.

Map