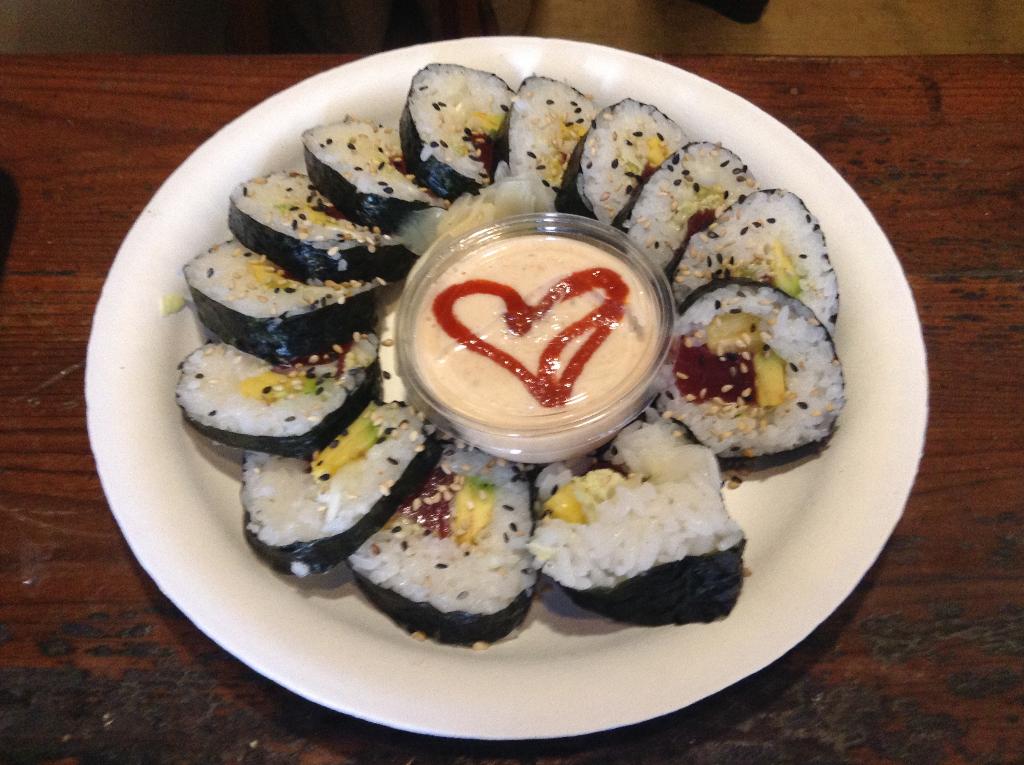 Description
Sometimes good take-out food wins over everything else in an area, such is the case in Wainiha Kauai near the epic "end of the road" beaches. Fresh, local, and organic are a rare find, but at Sushi Girl Kauai they are the key to good tasting fresh healthy eating while enjoying your day at the beach. Over the last several years they have mastered their menu, which reads simple, yet the food hits you as much more of a meal as you take each bite. Many of the single portions are large enough to be shared, so mix and match some fun choices.

At a Glance:
Cuisine: Sushi made to order/Hawaiian/Seafood
Price: $$/$$$
Location: Wainiha, Kauai near Ha'ena
Hours: daily 11 a.m. to 8 p.m.
Environment/Dcor: No seating here, just good food that is easy to grab and go to the beach for sunset or s snorkel picnic.

Tasteful fresh ingredients right down to the seaweed, and salads, but especially the fish, which is local catch, makes this a locals' favorite. When local residents drop hard earned dollars on food in the islands, take notice. We did, and were not disappointed. When traveling Kauai's North Shore, civilization tends to dwell around Hanalei, where shops and restaurants prevail. When you finally reach the beaches past Hanalei, the only thing you need is good food to keep your day going, and driving to Hanalei seems more like driving to Los Angeles.

Sushi Girl saves the day, as it is easy to find on a peninsula in the Wainiha Valley right next to the last shopping area before the end of the road (3 miles further). So when hunger starts to kick in, stay relaxed and go get Sushi Girl. Even if there is a small line, no worries, as these girls are fast sushi rollers, rarely taking more then 10 minutes to prepare your order. IF staying in Haena rentals, call in your order and just drive up, grab and go.

Vegetarians have a lot of options as well, as the local and organic greens and seaweeds can make great wraps.

Great place to eat your sushi on the beach: http://www.hawaiianbeachrentals.com/Hawaii/Kauai/Haena/beaches/TunnelsBeachakaMakuaatHaenaPoint.htm

Our Staff's Pics: The Sushi Burrito is mega large, and almost two meals. The seaweed salad is our favorite pre-snorkel snack. Check their daily specials as they get very creative with choices local ingredients.

Contacts:
Phone:808.827.8171
Website: http://www.sushigirlkauai.fish
Menu link: http://www.sushigirlkauai.fish/menu.html

Location:
5-6607 Kuhio Highway
Wainiha, HI 96714

Directions:
"Kuhio Highway" is a little two lane road at this point. Sushi Girl is located on the peninsula in Wainiha. IF coming from Haena it is just past the "double bridge" heading toward Hanalei on the right. From Hanalei, it is just past the small single bridge that you cross upon entering Wainiha, and is 100 yards ahead on the left. Right next to the "Wainiha General Store"

Map