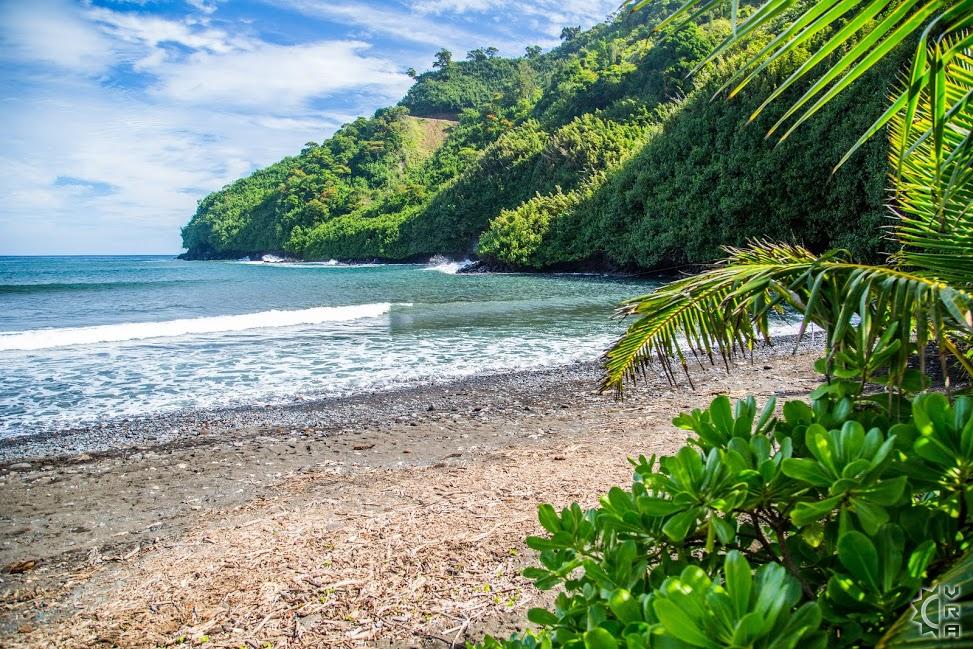 Description
Honomanu Bay's stunning black sand beach is a landmark along the legendary Road to Hana that most visitors hope to catch a glimpse of from the road high above, but very few actually make it down to the bay as it is not easily accessible. However, it is definitely possible to set foot on the beach without too much hassle, and the rugged landscape and surreal views make it worth it.

AT A GLANCE:
Honomanu Bay is located on the ocean side of Hana Highway about halfway between Paia and Hana, near mile marker 14. The road passes high above the bay, and passerby can get beautiful views of the bay and black sand beach at two points along the road itself, one about a mile before mile marker 14 and one a bit after.

Just after mile marker 14 there is a sharp left turn onto a rough, unpaved dirt access road that runs down to the bay. The road is unmarked and unnamed, and technically "off limits" to tourists with rental cars as most rental companies prohibit drivers from taking rental cars off-road. When there has been rain or bad weather, the road can get very hazardous. However, when weather conditions are good and the road is dry, it is hardly a challenge to get down. If in doubt or if you are prohibited from this road by your rental car agreement, you can simply pull off to the side of the highway adjacent the access road and walk down to the bay. Depending on the time of day, a couple of other cars or white tour vans will likely be parked along the side of the road here.

The bay is most often frequented by local fishermen and, when conditions are good, surfers. It is not a good area for swimming due to sharp reefs and strong currents. The meaning of the Hawaiian word "manu" is shark, and true to its name, the bay is also known to be frequented by sharks.

To the far side of the beach is a freshwater stream that runs down from the mountains and into the ocean. Depending on the season, it often creates a large freshwater pool on the beach that is a great and safe swimming spot.

There are no lifeguards or facilities of any kind on the bay, and visitors most likely will not have cell phone reception.

Address:
Hana Highway, near mile marker 14.

Directions:
From Paia, head south on Highway 36 (Hana Highway). Honomanu Bay will be to the left, just after mile marker 14.

Map