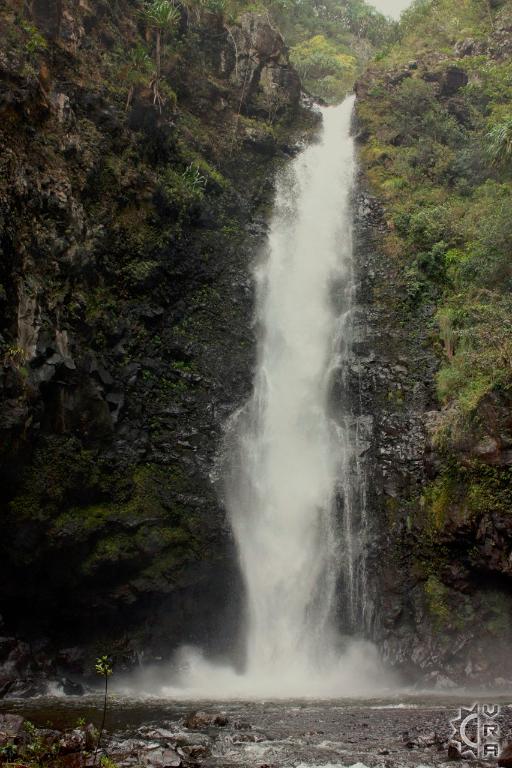 Description
If you are traveling the "backside road" to or from the Kipahulu district via Maui's Pi'ilani Highway, aka HI-route 31, this waterfall is a must. A short hike from the roadway gets you a 80 foot tall natural waterfall with refreshing pool at the bottom. Most people drive right by Alelele as they speed off to one of the more popular nearby destinations, such as the pools at Oheo, making this waterfall peaceful and quiet.

Highlights:
An 80 foot tall slot-canyon waterfall at the bottom of a rainforest reserve at the base of the mountains above, is a short a 10-minute walk up old Hawaiian terraces.

Location:
Kipahulu, Maui

Amenities:
None
Hazards!:
Do not cross the stream if it is flooding, also be aware of the unstable overhead terrain which has rock fall potential after rains and during high winds.

Where to start:
This waterfall is under the jurisdiction of the National Park, but is outside the larger more popular "Pools of Oheo" portion. The access to the trail is right along the bridge and contours and eventually crosses the stream. Be prepared for a 10 minute walk through some uneven and unstable terrain. Facing up valley with the ocean to your back. The trail starts at the right side of the bridge and continues through several old rock walled terraces indicating that this area may have been once inhabited.

Local's Tip:
Alelele is a seasonal waterfall with a fluctuating flow of water based on recent rainfall. Before making the hike in, check how much water is running under the bridge. It will give you an idea of what to expect to find at the top.

Directions:
From Hana Area: Driving past "Oheo Gulch" and the National Park proceed slowly through the rural neighborhood until the road narrows and descends toward the rocky beach below. Continue on, passing mile marker 39 then rounding into the next valley along the waterfront roadway. In the next gulch you will cross a white bridge with the word "alelele" etched into it. Cross the bridge and park on the shoulder.

From Ulupalakua/Kaupo area: After decending the cliffside roadway around mile marker 38 entering the Kalepa Gulch, cross Kalepa Bridge and round the next cliffside portion of the highway. When you see the oceanfront fresh water pool look for parking roadside before the white bridge.

Map