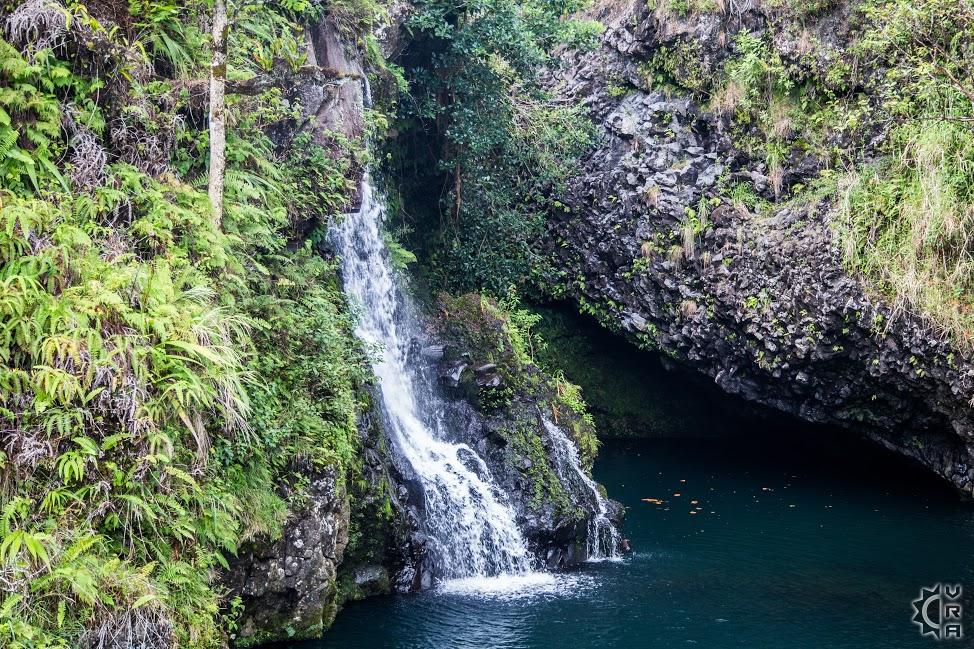 Description
The incredibly scenic and fragrant Road to Hana on Maui takes visitors on a stunning tour that is all about the journey, rather than the destination. The road winds through a tropical paradise that is visited by approximately 1000 cars every day. The area features an abundance of waterfalls cascading down the mountains, and the Hanawai Falls, located right alongside the road, is one of the most scenic and accessible of them all.

AT A GLANCE:
With 52 miles of 59 bridges and 620 curves, the Road to Hana is on most Maui visitors' "must-see" list. Start early, pack a lunch, and remember to pause frequently along the way to enjoy the journey rather than rushing to arrive in Hana. There are many waterfalls along the drive that can be hiked to, but if you are unable to hike or are short on time, the Hanawai Falls should be at the very top of your "stop-to-see" list as it doesn't involve leaving the roadside.

Hanawaii Falls is located just a bit past mile marker 24, and can be easily viewed without even having to leave your vehicle. However, if you want to pause to enjoy and photograph the sight, find a safe place to pull over so you can fully appreciate it.

Typically, only the area to the right of the bridge has a heavy waterfall flow but during rainier seasons, the area to the left may have smaller falls as well.

The waterfall pools along the road to Hana are popular swimming spots, and you may see swimmers enjoying the pool at Hanawai Falls. If you choose to swim, use caution when climbing down toward the pool as frequent rain keeps the terrain wet and slippery. Also, make sure that you park your car in a proper "off-road" pullover spot so that you don't impede the flow of traffic, as the areas around the waterfalls can tend to get backed up. Don't forget to lock your vehicle and hide or remove any valuables!

Address:
Hana Highway, mile marker 24.2

Directions:
From Paia, head south on Highway 36 (Hana Highway). Hanawai Falls is located along the road just past mile marker 24, with the largest fall to the right. If there is not space to pull over before the bridge, there is an area just beyond the bridge where you can pull off the road and walk back to the falls to photograph or swim.

Map