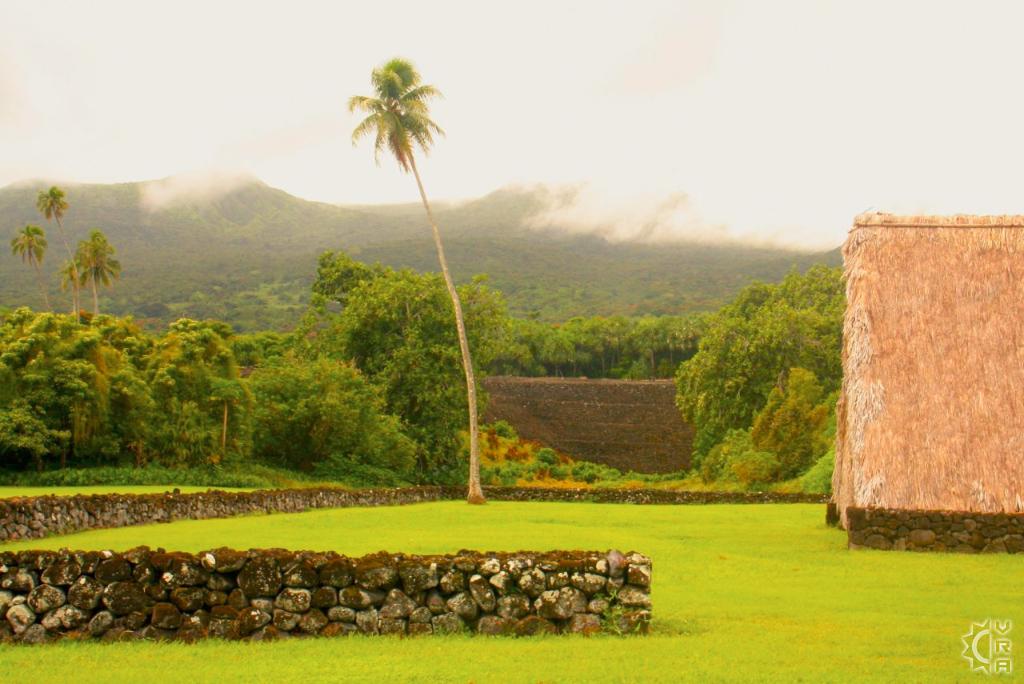 Description
Also know as the National Tropical Botanical Garden,this sweeping ocean front landscape is a historical landmark, housing the remnants of a temple complex dating back to the nearly 1200 A.D. Constructed over several hundred years then named "Pi'ilanihale" in honor of Maui's most beloved chief Pi'ilani, who ruled back in the 16th century A.D.. The grounds of Kahanu are seeped in history, and surrounded by Polynesian plants that became the staples of Hawaiian culture. Modern day replicas of native thatched pavilions create ample rest areas to sit back and ponder the landscape that looks very similar to how it may have appeared for centuries before contact with the outside world.

Highlights:
Not far from the edge of Hana town, this garden's 464-acre grounds are steeped in history of the Hawaiian cultural use preserved in perpetuity by a non-profit that oversees its upkeep and showcases the plants that made pre-contact Hawaii thrive.

Location:
Hana, Maui

Hours:
9 a.m. to 2 p.m. Monday through Saturday( sometimes as late as 3:30 pm.)

Hazards:
Do not approach the ocean at this site, as access is unsafe. Boundaries are clearly marked so stay on the safe side. Do not walk under the coconut trees, they are untrimmed and falling coconuts are a very real danger.
Fees:
$10 adult admission, with children under 12 free of charge.

Kahanu Gardens houses a rare 60-foot tall stonework temple considered the largest in Polynesia. This significant cultural site is registered as a National Historic Landmark, but the incredible beauty in the landscape around the temple complex is just as precious. Layers of Polynesian voyaging plants surround open fields with coconut groves, and a large replica canoe house with carved wooden canoe, make this "garden" seem like an open-air museum. The sense of history and the ingenuity of the Polynesian settlers thriving here is evident as you walk about the acres of this oceanfront Eden that once was once a fishing village at the base of a huge watershed, called Honom'ele.

A great guidebook is given to you upon purchasing entry to the garden. It is a teaching guide to the plants and significant sites on the grounds. A self-guided tour can easily be stretched to a relaxing hour of shaded bench breaks and short walks between views, and those in more quick-step fashion a half hour will get you some amazing pictures and quiet perspective.

A section of the garden just left of the entry house is the world's largest collection of breadfruit cultivars. This genetic storehouse of Polynesia's staple food crop has 120 varieties present, making it a very significant grove for preserving this culturally significant plant that followed the Polynesians wherever they established landfall.

Local's Tip:
Kahanu is situated at a great rest stop point along the Hana Highway. The admission fee of $10 per person creates a buffer from the more hectic "free areas" around Hana. The peace and quiet that results is actually priceless, and creates a very secure feeling as you relax amongst the grounds, unwind and even picnic if you like.

Address:
650 Ulaino Rd, Hana, HI 96713

Phone:
(808) 248-8912
Website:
http://ntbg.org/gardens/kahanu.php

Directions:
As you drive on the Hana Highway, aka HI-route 360, heading toward Hana look for mile marker 31 and turn left toward the ocean on 'Ula'ini Road. There will be big "Kahanu Gardens" that direct you 1 mile down the road to a stream crossing. DO not cross if stream is flooding. If stream is clear, cross streambed and turn right into Kahanu. Stop at the gatehouse to get orientated and pay for entry.

Map