Horseback riding at the Thompson Ranch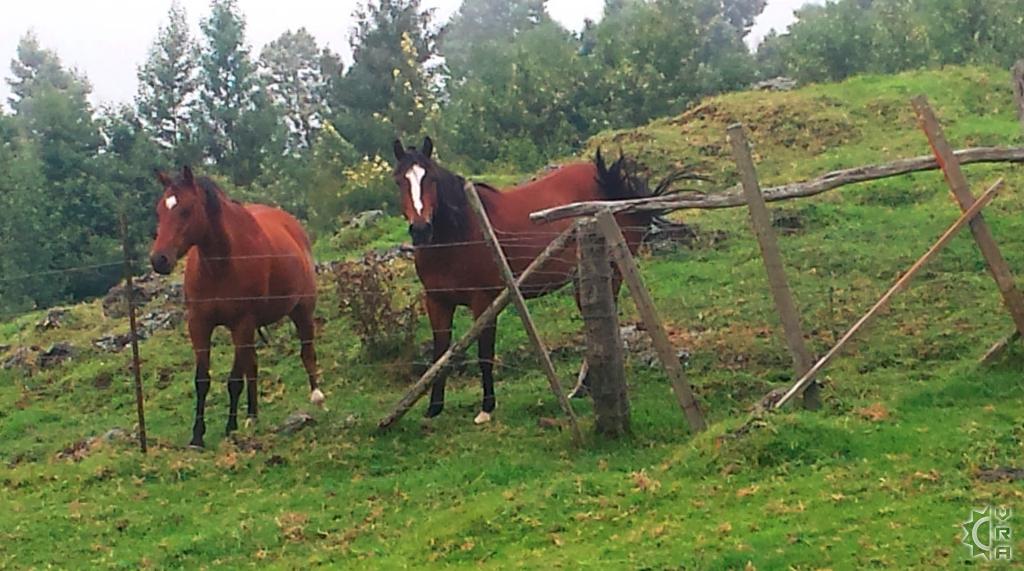 Horseback riding at the Thompson Ranch
Description
Maui's rural ranch lands amidst the slopes of Mount Haleakala are lush and green and referred to commonly as "Upcountry". Thompson Ranch, nicknamed "the best little ranch on Maui", encompasses 1400 acres of undulating pasture lands with distant views stretching downslope to the coast 4,000 feet below, and the ocean beyond. Taking a horseback ride with the Thompson family on this "working" ranch opens a door to a part of Maui few ever see, a glance into Maui's illustrious ranching past, while providing an opportunity to experience some deep country at a leisurely pace.

At a Glance:
Highlights: Enjoy Maui's "big sky" country while going horseback riding on a family-operated ranch. This Upcountry adventure gives you rare horseback access to 1400 mountainous acres and a chance to slow down, relax, and enjoy the ride.
Activity level: Easy to moderate, depending on your horse skills.
Location: Kula, Maui
Options: Couples or individuals can join with a few others for a group ride. Maximum group number is 4-5 adults and 2 kids. A private ride can be arranged for your family group. Amazingly kids as young as 6 can go riding, this is a rarity.
Route: 2-2.5 hr adventure up to the mountain cabin and back down the same trail. 30 min snack break at the cabin, potato chips, water and apple juice provided by the ranch.
Hazards!: Riding on the uneven steep terrain makes this activity stressful for those with back issues. Helmets are optional but recommended.
Reservations: Required
Cost: $100 to 150 per person depending on group size.

The Thompson family hosts this horseback ride and ranch experience. Grazing 60 heads of cattle, up to a thousand goats, chicken and turkeys are the ranch's mainstay, but the guided ride business is a passion of the Thompsons' younger generation and their love of horsemanship. This is not your standard commercial horseback ride where the visitors arrive by the busload. Instead the feel to this horse riding adventure is more intimate, you are treated like family, and the ranch setting makes the ride feel like a 100-year step back in time. One hundred years ago this ranch looked much like it does today, and the sale of this land to the Thompson family was conditioned on it staying undeveloped and raw. The trails you ride are rugged enough to engage the experienced rider, and the horses are well-trained and experienced enough to accommodate those with little or no horse experience. The horses are high caliber as they also work the cattle and are well cared for in the process. The spirited guides are steeped in horse lore and speak passionately about the ranching operations and preservation of native forest species.

The rides run a little over two hours starting at the stables at 4,000 feet and proceeding uphill through the ranch lands and forest. Eventually you take a break at a wilderness cabin at 5,000 feet of elevation, with views of Haleakala and rolling fogs that slide across the hillside. Often during the ride the trail will get swathed with clouds creating a dreamy fairy-tale-like atmosphere. As you ride downhill toward the ranch stables, the clouds lift to show an awesome panoramic view of both the south and north shores of Maui and the big blue ocean beyond. Most other Maui horse rides are dwarfed simply by this location, but when you consider that you are being guided by the stewards of this beautiful land on their beloved animals it is easy to consider this opportunity to experience a ride with the Thompsons to be a rarity on modern-day Maui.

Local's Tip:
This operation was recommended by horsemen of Maui, as they keep their horses fresh and only do 2 to 3 rides a week. When visiting Upcountry, visit Grandma's coffee shop in Keokea, or the cowboy town of Makawao for a meal and some Upcountry charm.

Contacts:
Phone: 808-878-1910
Web: http://www.thompsonranchmaui.com/

Address:
1311 Waipoli Road Waiaanu Street
Kula, Hawaii

Directions:
Drive up Haleakala Highway aka HI-route 37 passing through residential areas with traffic lights, then proceeding through rural area known as "Kula" as the road climbs uphill. There will be a green grassy park on your left called "Rice Park"; then you will pass the upper junction of Kekaulike Highway. Slowing down look for Polipoli Road on your left. It will be just before mile marker 16. Turning left onto the uphill Polipoli Road proceed to the end of the road, where it will split. Keep left, look for signs to Thompson Ranch on your left. There will be a gate that is not shut. Proceed through the gate and up the steep concrete driveway for about a mile until you arrive to the flatter area with a house on the right and a grassy visitors' parking area on the left. Leave your car there, and one of the Thompsons will take you uphill to the stables for your riding adventure.

Map