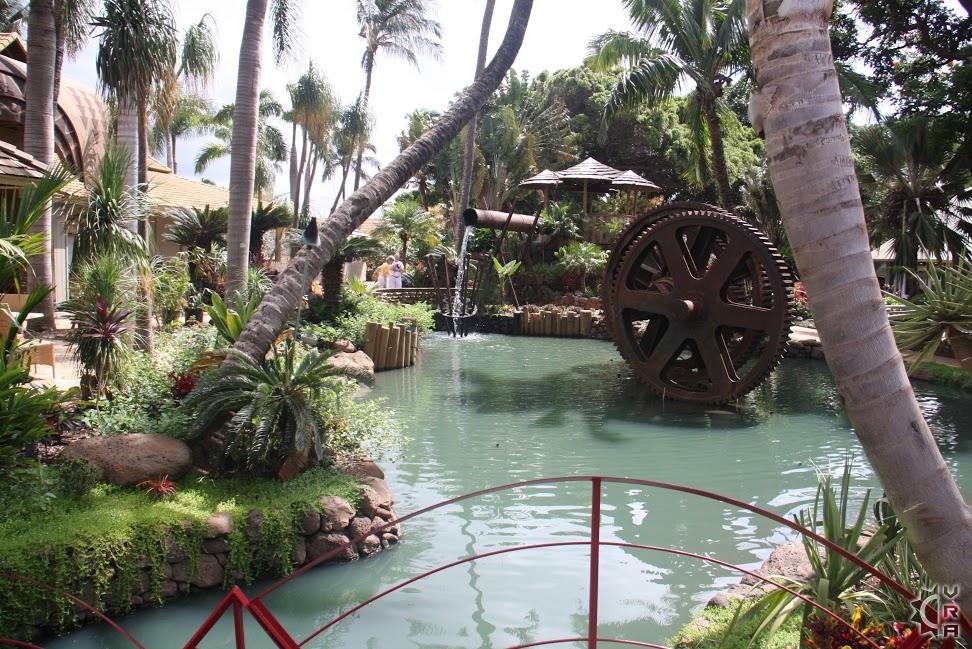 Description
This classic tourist destination sits amidst the edge of Maui's sugar cane plantation, and is surrounded by working farms cultivating a variety of flowers and produce. Its central valley location makes it a great roadside attraction for a pause in your days adventures. A variety of crafts people sell their artworks in kiosks spread about the gardens, and the Tropical Market has refreshments, a gourmet coffee vendor, local art and Hawaiian-style souvenirs and curios.

Highlight:
A classic Hawaiian plantation wraps around a central set of gardens and a reflective pond on 60 acres! An oasis centrally located along one of Maui's main highways. The Maui Tropical Plantation has beautiful flowers, paved walkways, and shaded seating making it good for all ages and levels of mobility.

Hours:
9 a.m. to 5 p.m. daily

Set amongst the foothills of the West Maui Mountains along the Waikapu Valley, the Maui Tropical Plantation has been a classic visitor destination for three decades. It represents an interesting transition of Hawaii's economic evolution from agriculture to tourism over the last hundred years. The plantation theme is more evident in the outer ring of gardens surrounding the property, while paved pathways curve through many interior courtyards under large palms and shade trees. Local artists and crafts people host kiosks from which you may shop with them directly.

For those wanting a tour experience there are two options. The Tropical Express Tram Tour wraps through the gardens on a 40-minute excursion where your driver-guide explains the many types of plants and activities taking place around the Plantation. The Tram Tours run 7 days a week with nine daily tour times of 10:00 AM, 10:45 AM, 11:30 AM, 12:15 PM, 1:00 PM, 1:45 PM, 2:30 PM, 3:15 PM, and 4:00 PM. Adult Tickets - $16.00 Child Tickets (ages 3-12) - $6.00

For those seeking a little technology combined with the ease of self touring, a free downloadable guide app is available for smart phones, and gives further in depth information regarding the many plant species on the grounds. A link to their free Guidebook phone app can be found here: https://guidebook.com/g/mtp/

Locals Tip:
This destination makes the perfect add on to another nearby activity such as a boat ride from Ma'alaea Harbor or a visit to the Maui Ocean Center. It is also only 15 minutes from the airport making it a good stop over during first or last days while awaiting check in or departure.

*Two Zipline Tour companies operate on parts of the property and you may here screams of terror and delight from time to time. A few smaller ziplines edge along the public access gardens with one zip ending above the picturesque reflective pond.

Smaller Zips are Maui Ziplines: https://www.mauizipline.com

Larger Zips up in the mountain: http://www.flyinhawaiianzipline.com

Extra fun:
Weblink to printable scavenger hunt activity:
http://www.mauitropicalplantation.com/scavenger-hunt-puzzles

Address:
1670 Honoapiilani Highway
Wailuku, Hawaii 96793

Contacts:
Local Phone: 808-2693642
Toll Free: 800-451-6805

Directions:
From the intersections of Kuihelani highway (HI route 380) and Hanoapiilani Highway (HI route 30) drive on HI-route 30 north for approximately 2 miles looking for the "Maui Tropical Plantation" sign on left and turn into the parking lots (Just 2 miles north of the Kuihelani highway 380, the main road to and from the airport and our central city of Kahului when heading to Lahaina/Kaanapali).

Map