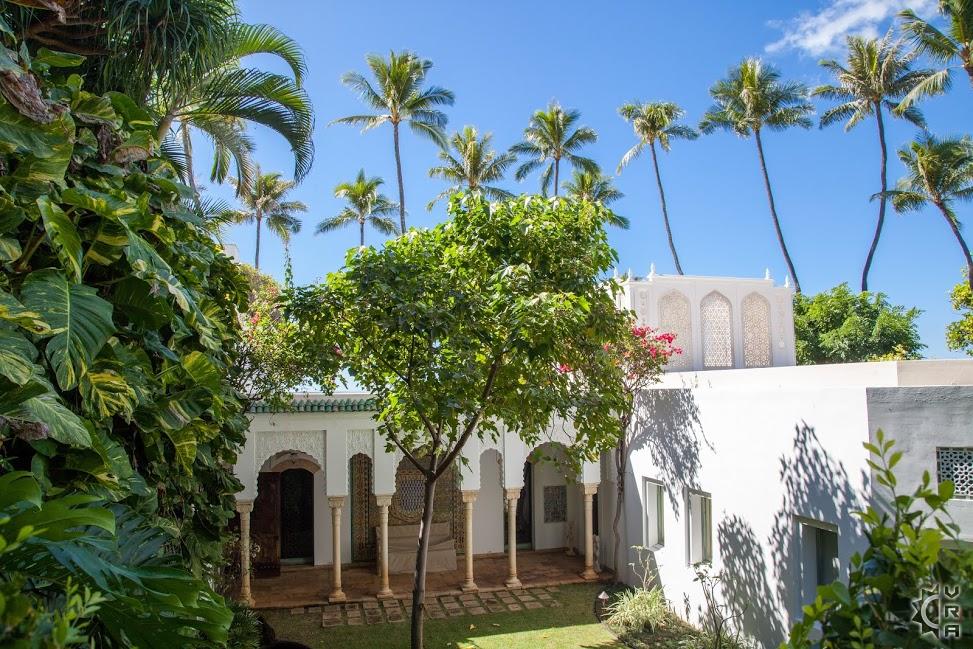 Description
Founded by Doris Duke (1912-1993), Shangri La is a center for Islamic arts and cultures located at the foot of Diamond Head in Honolulu. It is one of the most architecturally significant homes on the island, and is also renowned for its huge collection of Middle Eastern art and cultural traditions that were interwoven with the architectural style of the home.

AT A GLANCE:
Doris Duke (American heiress and philanthropist) fell in love with Oahu during her honeymoon in 1935, which included a journey through the Islamic world as well as a leisurely Hawaiian vacation. Entranced by the unique beauty of Hawaii as well as the art, culture, and architecture of the Islamic nations she passed through as part of the honeymoon trip, she decided to create a custom-built seasonal home in Honolulu that would combine the features and individual, unique characteristics of both cultures. She was assisted with the design plans by architect Marion Sims Wyeth.

The 14,000-square-foot home sits on five acres and includes a pool, a playhouse, and a variety of courtyards, terraces, gardens, and lanais. During the construction process, Doris Duke continued her explorations of the Middle East to supply her architect with pictures of the Islamic culture's architectural style to be used for her home. She hired well-known artists in Syria, India, Morocco, and Iran to create artwork for the home and combined a unique blend of traditional Middle Eastern art and architectural elements with more modern ones.

Her collecting of Islamic art and cultural items continued for 60 years, amassing to a huge, museum-like collection of 2,500 items. Most of these can be seen at Shangri La, and many of them have been built right into the architectural structure of the home, creating a sort of "living museum."

Shangri La is open to the public for guided tours and educational lectures, performances, and more. Tours begin at the Honolulu at the Honolulu Museum of Art and from there, guests are shuttled to Shangri La (this is the only way to see Shangri La. Visitors who go directly to the home will not be allowed to enter.) The entire tour lasts approximately 2.5 hours.

Hours:
Tours are offered Wednesday through Saturday at 9am, 10:30am, and 1:30pm. Tickets must be purchased in advance. To ensure availability, it is recommended to get tickets 2-3 weeks in advance.

Cost:
$25. Children under the age of 8 are not permitted on the tour.

Phone:
808-734-1941
Honolulu Art Gallery phone:
808-532-3853

Website:
www.shangrilahawaii.org; www.honolulumuseum.org

Address:
Honolulu Art Museum - 900 S Beretania St, Honolulu, HI 96814

Directions to the Honolulu Art Museum (where Shangri La tours originate):
From Waikiki, take the H1 to the Lunalilo Street exit. Turn left onto Ward Ave, then left onto Kinau Street, right on Victoria Street, and left on Young Street. There will be an entrance to a parking lot on the left.

Map