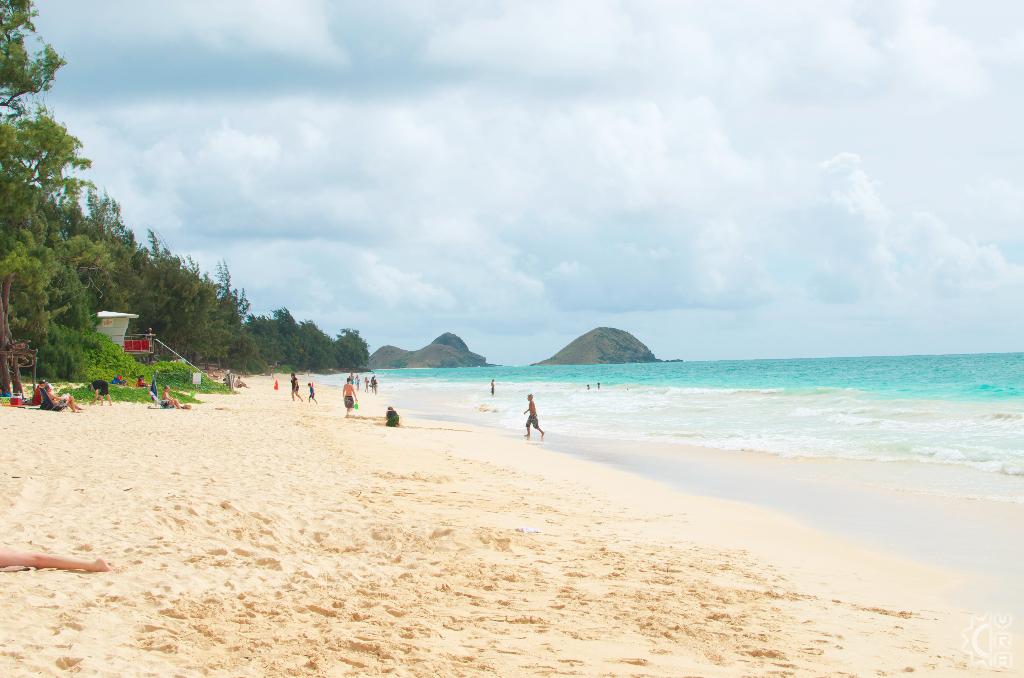 Description
Bellows Beach Park is a family style leisure camp located in Waimanalo, Hawaii. With long stretches of white sand, shady ironwood trees, clear waters and a magnificient view of luscious offshore islands, this beach park offers a great vacation for military and nonmilitary citizens alike. Bellows Air Force Station offers air conditioned lodging units for comfort and tranquility. Only 30 minutes away from Waikiki and Honolulu, this paradise getaway is sure to offer magnificent views and a relaxing time.


AT A GLANCE:
HIGHLIGHTS: Bellows Beach Park is located on Bellows Air Force Station. Although mainly for military card holders, there are many beach sections offered to the public. Along with a pristine
beach lining ironwood trees, this leisure camp offers multiple pavilions, restaurants, basketball courts, paintball arenas, child playgrounds and over 110 premiere beachfront lodging units.
ACTIVITIES: Swimming, snorkeling, body boarding, long beach walks, barbeque cooking,playgrounds, basketball, beach volleyball, shelling
LIFEGUARD: Bellows certified lifeguards are on duty every day from 10 am to 5 pm. These safety experts patrol from two locations: one behind the AAFES EXPRESS and another one
close to the beach pavilion in Beachwalk Lane.
WARNINGS!: Occasionally box jellyfish may appear in the shallows. Although hardly ever present, unusually strong winds may provide rough shorebreak as well as rip currents.
AMENITIES: Multiple parking areas, 3 main public restrooms, multiple showers, barbeque stations, pavilions, picnic tables
HOURS: If you're not staying in a lodging unit, beach access is from 8am to 10pm.


Here at Bellows Beach Park, a funfilled family vacation meets paradise living. As you're fronted by turquoise waters and white sand, distant Makapu'u cliffs and offshore islands create a sensational oasis. Bellows AFS sets itself above the rest as it offers more than just a beach. As a leisure camp for military affiliates, Bellows AFS is the perfect place for rest and recuperation. After a morning dip at sunrise, breakfast at the local cafe is sure to set the day right. Multiple pavilions sided by basketball courts and playgrounds alike offer great party locations as well. As for all of you adrenaline junkies out there, Bellows AFS is home to one of Hawaii's premiere paintball arenas. If you are visiting Hawaii or simply want to take home much more than you came with, Bellows AFS offers vacationers and kama'aina Hawaiian Culture Classes and Outdoor Adventure Programs that enrich the local experience.


*Note: As Bellows AFS are for military affiliates and family members, there are guard shacks to enforce security upon entering the leisure camp. However, there are also other beach sections open to the public, as well as public beaches closely located next to Bellows (ex. Waimanalo Beach Park, Sherwoods, etc.)

Bellows Air Force Station Homepage: http://www.bellowsafs.com/index.html

Virtual Tour: http://www.dailymotion.com/video/xd6dsf_bellowsafs_shortfilms#.USXU9Vepcuw

Ocean safety link: http://www.bellowsafs.com/onlinereservations.html

Closest town: Waimanalo

Directions:

H-1 West Waianae
Merge with H-1 (H-1 West Aiea/Pearl City)
Take Exit 13b (H-3 Kaneohe/Honolulu) to get onto H-3
Take Exit 11 (Kamehameha Hwy/Kaneohe) and turn right to get onto Kamehameha Hwy
Turn left onto Kalaniana'ole Hwy to go toward Kailua/Waimanalo
At the third light, next to Castle Medical Center, turn right. You will still be on Kalaniana'ole Hwy
Drive through the town of Waimanalo. Bellows AFS will be on the left.
Address:
220 Tinker Road
Waimanalo, Hawaii 96795

Map