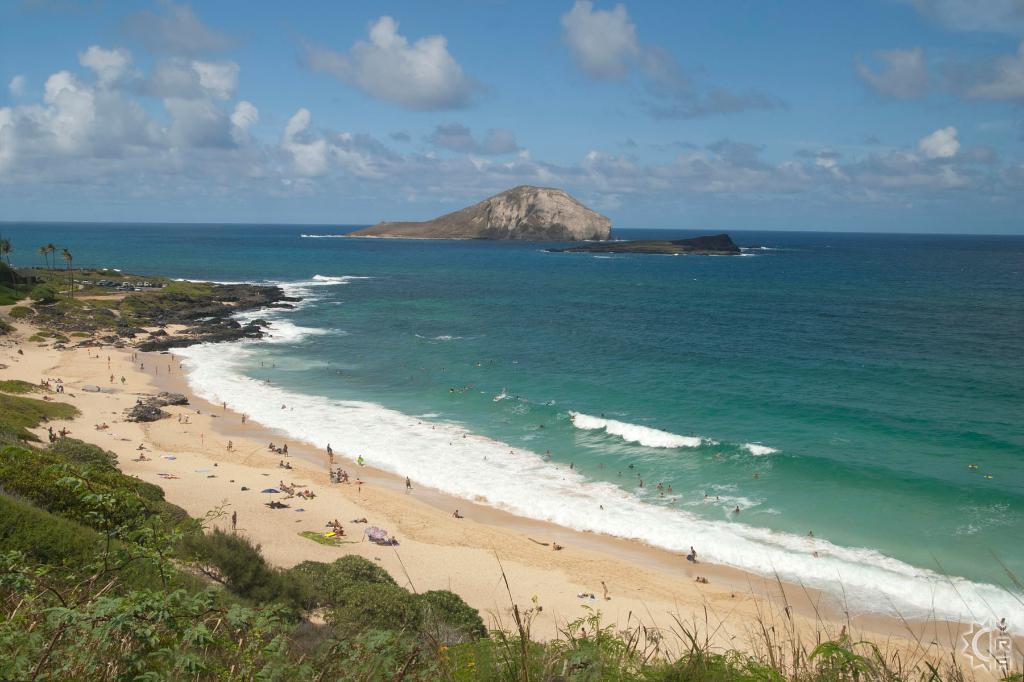 Description
Wild and scenic Makapu'u beach sits at the foot of the towering cliffs and hosts all the natural elements in abundance. It is easy to get blown away here, especially when the north-eastern "trade winds" are strong. The wind currents spiral upward overhead, and frigate birds and their human glider counterparts make use of the updrafts to soar high overhead. White crests of the shore breakers and two islets on the horizon complete the sweeping panorama.

AT A GLANCE:
HIGHLIGHTS: Wild and wondrous beach tucked below towering cliffs, with excellent views of the windward coastline. Surrounded by nature and open to the elements.
ACTIVITIES: Swimming, body boarding, beach lounging, paraglider watch.
LIFEGUARD: YES
WARNINGS!: Strong currents and waves can be present here. Visitors are advised to speak with lifeguards upon arrival before swimming.
AMENITIES: Parking, restroom and showers.

A centerpiece of the scenic Ka'iwi shoreline, this beach is easy to find along Kalanianaole Highway, adjacent to the Sea Life Park tourist attraction. Despite the Makapu'u Beach's proximity to the road, once you descend to the beach, the roadway and its commotion disappear, and nature takes over. This beach is a wind-swept, rugged and wonderful place, where ocean sounds wash away the traffic noise and lush foliage surrounds the beach. Along the shoreline to the right where waves crash upon a rugged volcanic shoreline, is the Makapu'u Lighthouse, marking the easternmost reach of Oahu. Kaohikaipu and Manana or "Rabbit's Head" islands dotting the horizon line right in front are protected seabird sanctuaries, and to your left there is an expansive view of the Windward shoreline with Waimanalo and Kailua Bays.

The sand slopes upward at the rear of the beach shaping the scene like a natural amphitheater. If there is surf, you are likely to see scores of local bodyboarders handling this sometimes intense shore break. It is the playground for the experienced and the athletic. The surf is much more dangerous then it appears here. This beach's position on the easternmost tip of Oahu favors creation of rip currents, so be careful. Ocean winds and currents merge in this area, creating marine environment that is considerably more rough and powerful.

A link to video of Makapu'u Beach:
http://youtu.be/bkhPTLeV3CQ

Ocean safety link for Makapu'u:
http://oceansafety.ancl.hawaii.edu/v/2.0/?i=oahu&shid=3&bch=makapuu

Closest town: Waiamanalo
Directions:
Located along HI route 72 / Kalanianaole Highway across from the Sea Life Park
From the North: Drive Kalanianaole Highway through Waiamanalo and watch for the ocean research pier on the ocean front on your left. After passing a first beach park on the left, Makapu'u entrance is the second park entrance on the left and is opposite to the entrance to the Sea Life Park.

From the South: Drive Kalanianaole Highway east and pass Sandy Beach Park. As the roadway begins to contour the hills, curving inland and climbing uphill, you will pass a scenic lookout on the right. After that the road curves downhill. The parking lot is your first right at the bottom of the hill. Note the large pull-out on the right as you drive downhill; this is additional parking if the park lot is full.


Map