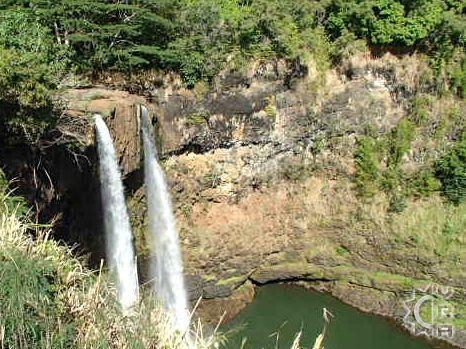 Description
Everyone's Hawaiian fantasies seem to include a spectacular view of a waterfall. Often this is not easily done without extensive hiking or a helicopter to get you to the deep remote valleys where they often are hidden. This is not the case with Wailua Falls, as you can drive a paved road right to the overlook for this amazing 200+ ft. tall natural wonder. Just 15 minutes from Lihue airport!

At a Glance:
Highlights: This famous waterfall has an easy to drive to lookout providing a breathtaking view of a waterfall seen in the opening credits of the 70's t.v. show "Fantasy Island" and is over 200 feet tall!
Location: Lihue/Hanama'ulu, Kauai

This is a great location to safely view the power of water in Kauai's environment, Wailua Falls has many moods and views depending on the weather. Some of the best viewing is during the crazy rainy days that happen occasionally. The key here is the viewpoint keeps you high above flood affects while preserving the view. No need to hike, this is a "drive up" waterfall, easy and convenient. Though parking is tight, be patient as turn over is quick, as many visitors come and go.

Local's Tip:
This is near Kauai's central town of Lihue and makes the perfect thing to do while transiting across the island or awaiting your departure flight.

Directions:

Off HI-route 56 aka Kuhio Highway: From central Lihue airport. Follow airport exit road crossing through traffic light and entering Lihue. Continue for a mile until you reach a traffic light intersection for Kuhio Highway and turn right. Following Kuhio Highway North you will pass the "Wilcox Hospital" and as the road curves downhill look for left hand turn at base of the hill before Kuhio Highway" begins to climb uphill again. After turning left at "Wailua Falls" follow access road 5.8 miles until the road ends at the viewing area.
From Wailua/Kapaa: Head South on HI-route 56, the Kuhio Highway, and follow signs to get on right lane and bear right toward "Hanamaulu" at the traffic light intersection. Passing through the small town of Hanamaulu the road will curve downhill and out of the housing area. Look for "Wailua Falls" sign on the right. After turning right at "Wailua Falls" follow access road 5.8 miles until the road ends at the viewing area.
Map