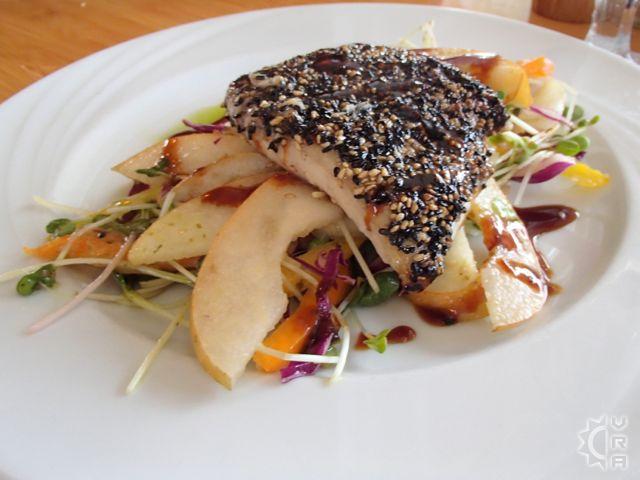 Description
The original restaurant opened by famed Maui chef and restaurateur Bev Gannon, Haliimaile General Store has won countless awards over its 25+ years in business. The food speaks for itself, delicious and flavorful combinations of ingredients brought into special arrangements signature to Bev Gannon's restaurants. The Upcountry Maui location is a great treat for lunch or dinner, especially paired with other activities or explorations in the area.

At a Glance:
Cuisine: Gourmet American/Pacific Rim
Price: $$/$$$
Location: Haliimaile, Maui
Hours: Lunch- Monday through Friday 11 a.m. to 2:30 p.m.; Dinner- daily 5:30 to 9:00 p.m.
Environment/Dcor: a great caf environment with Hawaiian curios, colored glass, and wall art. Table seating, and fine dining atmosphere, but island casual dcor.

Operating out of the 1925 era, former "general store" of this pineapple "camp town" the Haliimaile General Store opened to the public as a restaurant in 1988. Chef Beverly ("Bev") Gannon, and her husband Joe brought their custom catering menu to the table and this flagship restaurant has won countless accolades over its decades of operation.

Reservations for dinner are recommended, but lunch is a great drop-in option for the spontaneous gourmet lunch. Once seated the menu has nothing but great choices of fish, beef, lamb, and anything you see can have tofu substituted for vegetarians in your party. This is one of those eateries where nothing on the menu will disappoint you, and you better save room for dessert.

An in-house bar also offers a variety of cocktails and wines. The level of service here is worth mentioning. The quality is always noticeable and many of the employees have worked there for decades. Feel free to ask for help navigating the multitude of options on their menu, and don't forget to listen for the "Specials" which are out of this world.

Our Staff's Picks:
The "soup of yesterday" is a great option and divulges a chef's secret that soup always tastes better on the second day. The sashimi has been on the menu for over 18 years, its THAT good!

Contacts:
Phone Reservations: 808-572-2666
Online reservations: http://www.bevgannonrestaurants.com/haliimaile/contacts/
Website: http://www.bevgannonrestaurants.com/haliimaile

Directions:
Haliimaile General Store is best reached by driving the Haleakala Highway (HI-route 37) turning at the traffic light intersection for Haliimaile Road and traveling a few short miles looking for the restaurant on your right. There is a small lot on the right, and overflow parking across the street.

Map