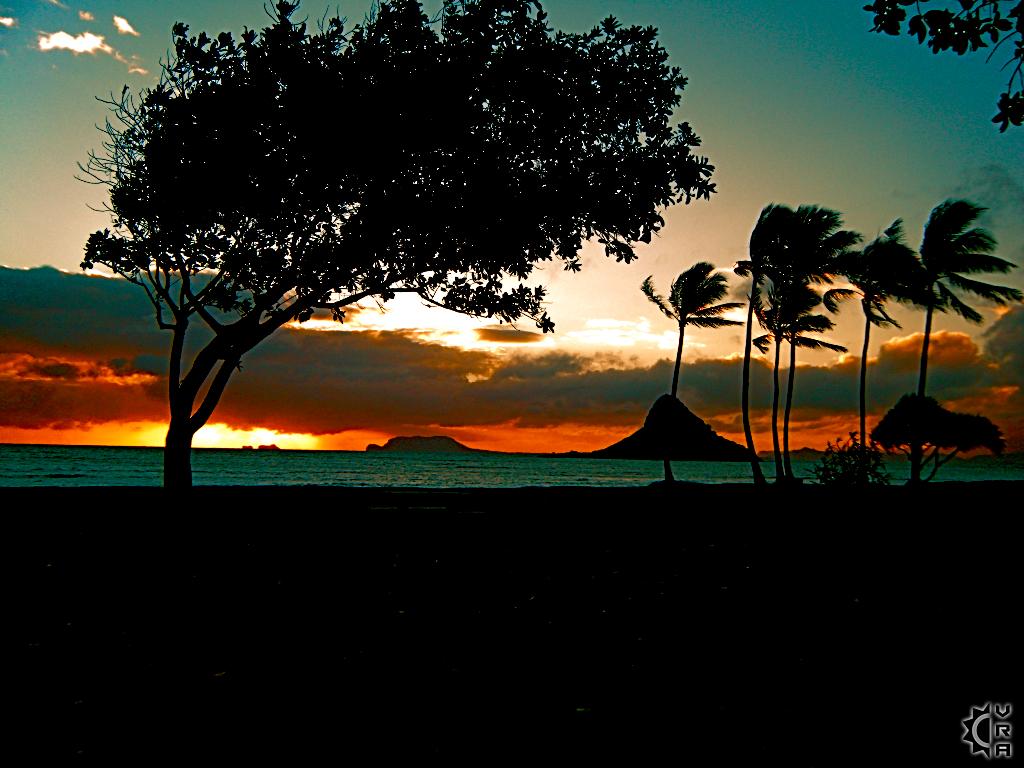 Description
Providing a dramatic backdrop for many Hollywood Blockbusters, including Pearl Harbor, Gilligan's Island and Adam Sandler's beloved cult classic 50 First Dates, Kaneohe Bay is one of East Oahu's most idyllic areas. Not so much a beach (sand is scarce to none) as it is a breathtaking bay, this vast stretch of vibrant blue water is surrounded on all sides by the captivating Ko'olau Mountain range. Although not necessarily the spot for swimmers, kayakers, boatman and avid fishermen will find their fix (and more than fair share of fish!) in the peaceful, glass-like waters of this Eastern Hawaiian realm. Home to five mini islands including the well-known Coconut Island, Kaneohe Bay also houses a sandbar, surprisingly settled in the very middle of its girth, and a great place for setting up a makeshift barbecue spot on a boat. Locals especially love to launch their vessels and get very social at this sandbar, making it a friendly community event that always brings sunshine and smiles.
AT A GLANCE:
HIGHLIGHTS: A brilliant blue bay with expansive, calm waters. Known for its fishing, kayaking and boating opportunities, Kaneohe Bay also is home to five mini islands, a State Park and sandbar.
ACTIVITIES: Kayaking, boating and fishing.
LIFEGUARD: NO
WARNINGS!: Boat at your own risk, as there is no designated lifeguard in this area. Also, being located on the Windward (east) side of the island, winds, rain and unpredictable weather may pick up quickly without warning, so keep this in mind when out on the water.
AMENITIES: Public restrooms located all along Bay at parks. Also, A deli-style restaurant, restroom and boat launch/ramp are available along Kaneohe Bay at He'eia Pier.
For avid kayakers, fishermen or boaters, Kaneohe Bay is a dream come true. Stocked with fish as far as the eye can see, this beautiful bay is steeped in history as well. It is here that Hawaiian chiefs supposedly chose to construct their sacred fishponds spots where, when visited, undeniable emit that ancient and mystical aura of another time.
The glistening and mostly calm waters pose the perfect paddlers playground. Measured at 8 miles long and just over 2.5 miles wide, the bay is popular among locals and tourists alike for fun in the sun and a welcome relief and divergence from the everyday, run of the mill Hawaiian tourist beaches. Gliding along the smooth waters, soaking in the sun and reveling in the silence, a day spend here is as close to Heaven as Hawaii can get.
Five small islands are encapsulated in this nature area, including the well-known Coconut Island made famous when featured in the wildly popular TV show Gilligan's Island. Chinaman's Hat is yet another worth mentioning for its stunning beauty, as well as its quirky characteristics. Some call this island the "shrinking island," as inexplicably, if you keep your eyes on it while you are driving towards it, the landmass actually appears to be getting smaller (or shrinking) before your very eyes rather than looming ahead!
Other points of interest dotted along Kaneohe Bay's main drag are Kualoa Regional Park, a spacious beach park with nice views of Chinaman's Hat, Kualoua Ranch (a working horse ranch with guided tours available daily), He'eia State Park and He'eia Pier as mentioned above, boasting a boat launch, delicatessen with locally bought fish made fresh daily right off the boat! It's the perfect midday meal or fresh dinner after building up a big appetite out on the water.
Directions:
Take HI-83 N
Continue onto HI-830 N
After roughly 4 miles you will reach the beginning of Kaneohe Bay
Map