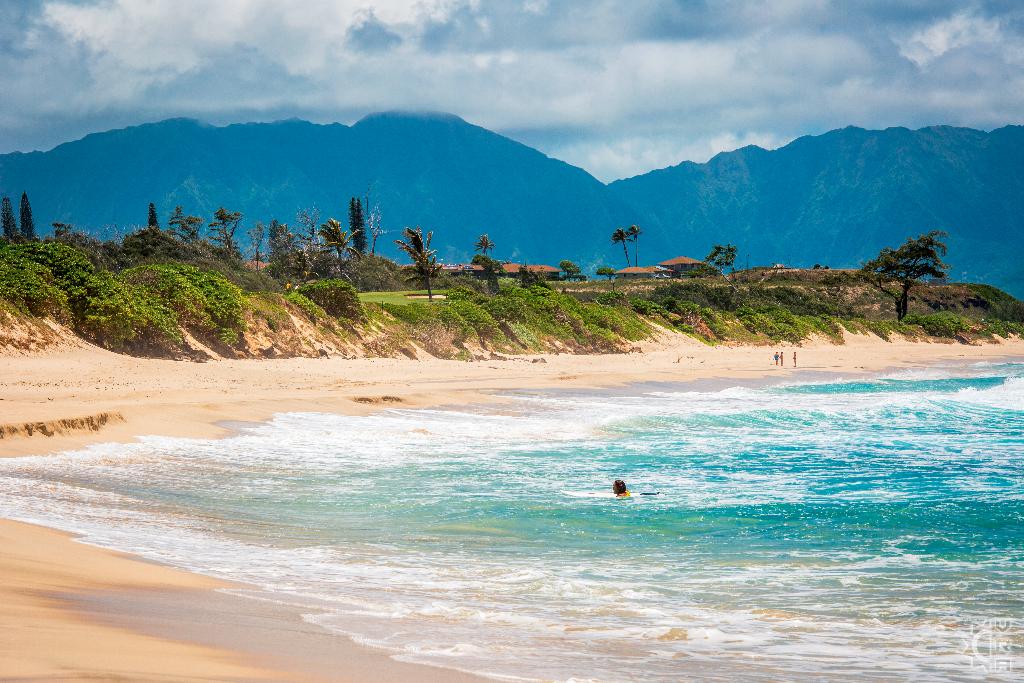 Description
Despite the epic, world-famous surf breaks that Oahu boasts, the windward side of the island has a serious lack of good surf spots. Because of this, North Beach is a rare treasure an exquisitely beautiful, postcard-perfect beach with consistently awesome waves. The only downside it is located off of the military base in Kaneohe, so is impossible to access unless you have military clearance or know someone who does and is willing to take you on a beach trip.

AT A GLANCE:
HIGHLIGHTS: Quiet beach, great surf breaks, views of Chinaman's hat, and clear turquoise water that is ideal for snorkeling

ACTIVITIES: Surfing, sunning, swimming, snorkeling, body boarding, bodysurfing

LIFEGUARD: Yes

WARNINGS!: Keep an eye out for sharks! If you're heading to the beach to surf, be aware that this isn't really a beginner's spot. The ocean bottom is a mix of sand and reef, but mainly reef. The reef extends all the way up to shore so be careful when swimming, snorkeling, or paddling out. Depending on the day, there can be strong/dangerous currents.

AMENITIES: Street parking, shower

Curving along the coast in-between Kaneohe and Kailua, North Beach is an expansive oasis of white sand and turquoise water for those lucky enough to be able to access it. On a calm day, it's a great spot for snorkeling. If you're a surfer, you'll never want to leave! The beach gets north shore swells, so if you can get there, you get North Shore waves without the crowds that always accompany them.

There is no designated parking area for the beach, but typically plenty of parking spots alongside the road (either Pond Rd or Bancroft Dr). Once you cross the grassy area fronting the beach, you'll see paths leading down to the water.

Closest town:

Kaneohe, Kailua

Directions:

The Marine Corp base is located at the end of the H3. From Waikiki/Honolulu, take the H1 to the Pali Hwy. Follow the Pali for about 8 miles, and then turn left on Auloa Road/HI-83. Merge onto H3 E toward Kailua/Kaneohe MCBH. H3 becomes G Street and will take you right to the gates, where you will need to show identification (if you're not military personnel, you'll need to have a member of the military with you to get through).
If you're coming from the North Shore (Turtle Bay area), take the Kamehameha Highway all the way down the coast, about 30 miles. Merge onto the H3 E toward Kaneohe MCBH. H3 becomes G Street and will take you right to the gates.

Map