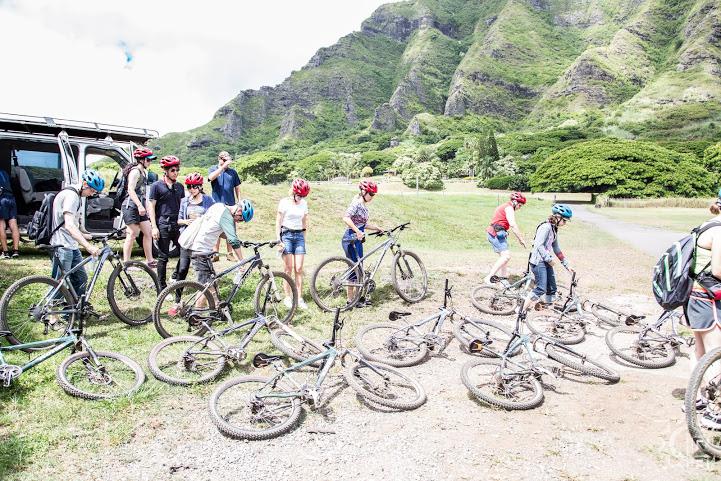 Description
Bike Hawaii offers hands-on, adrenaline-filled Oahu experiences geared toward adventurers looking to delve deeper than the "surface level" tourist activities on the island. Tours take guests off the beaten path to hidden trails, pristine rainforest, thrilling downhill mountain roads, and the other-worldly landscape of Jurassic Park.

AT A GLANCE:
Bike Hawaii offers two bike tour options: a relaxed 5-mile ride downhill along a paved road in the Pu'u 'Ohia rainforest, or a more challenging mountain-biking experience through the lush valley of Kaaawa Valley at Kualoa Ranch (where Jurassic Park was filmed).

The downhill biking tour is a three-hour adventure that includes lunch, drinks and snacks, professional nature guides, mountain bikes, helmets, rain gear (if needed), and round-trip transportation from Kahala, Waikiki, and Aloha Tower. Pu'u 'Ohia Rainforest offers fragrant scents, stunning panoramic views, and glimpse of Oahu's unique bird and animal species.

The mountain-biking tour includes access to Kualoa Ranch, complimentary round-trip transportation from Waikiki, mountain bikes, helmets, rain gear (if needed), hip pack, bottled water, snacks, lunch, drinks, and professional nature guides. Bikers will get to explore the stunning Kaaawa Valley, with epic views of the Koolau Mountain cliffs, coastline, and more. The tour includes a total of 2-3 hours of biking (approximately 6 miles), with stops at an old Hawaiian village, World War II bunkers, and the filming locations of popular movies including Jurassic Park, Godzilla, Wind Talkers, 50 First Dates, and Lost.

Appropriate footwear must be worn (shoes and socks, not sandals). Guests are ad-vised to bring a camera and a change of clothes, in case it rains or is muddy.

In addition to bike tours, Bike Hawaii offers, hike, kayak, and snorkel tours. Visit the website for more information.

Hours:
Downhill Biking Tour -
Tuesdays, Thursdays, Saturdays 12pm - 3pm

Mountain Biking Tour -
Wednesdays and Sundays; pick-up at 9am, return at 3:30pm

Telephone:
808-734-4214

Website:
www.bikehawaii.com

Prices:
Downhill Biking Tour -
Adult - $57.30
Children (14 and under) - $42.98

Mountain Biking Tour -
Adult - $119.38
Children (14 and under) - $76.40
*Tours not recommended for children under the age of 5.

Directions:
Bike Hawaii offers complimentary pick-up and drop-off included with tour price. When you make your tour reservation, you will receive more information about the pick-up location.

Map