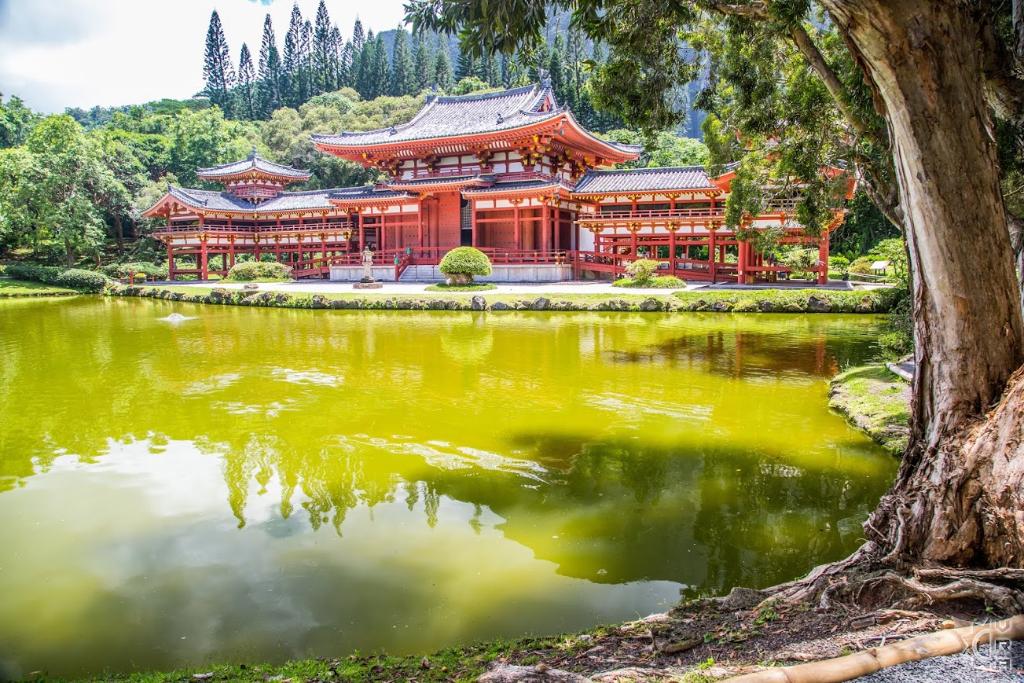 Description
This awe-inspiring temple and its gorgeous grounds exude peace and tranquility, despite the steady flow of visitors crossing over the bridge. A replica of the larger, 950-year-old Byodo-in temple in Uji, Japan, it is a non-practicing Buddhist temple and attracts visitors from all faiths, countries, and backgrounds. Nestled at the foot of the breathtaking Ko'olau Mountain Range in Kaneohe, it is located in the Valley of the Temples Memorial Park.
AT A GLANCE:
HIGHLIGHTS: Once crossing the bridge, visitors can begin their experience by ringing the large bell to the left. Buddhist temples often have bells of this sort that are rung before one enters the temple, and it is believed that ringing them brings happiness, good fortune, and longevity.
Further up the path, across the stream and up a winding stone staircase, visitors will find the Meditation Pavilion. The pavilion is tucked off to the side of and behind the temple, surrounded by trees that give it a quiet, private feel. Fragrant flowers, a small waterfall in the nearby stream, and songbirds create a beautiful ambience.
The temple is fronted by a two-acre pond filled with hundreds of colorful koi fish, and ducks, geese, and peacocks can usually be spotted in the pond and around the well-manicured grounds. Food to feed the fish can be purchased at the gift shop situated to the right of the temple.
Visitors are asked to remove shoes and slippers when entering the temple. Once inside, you can light incense or a candle in front of the intricate nine-foot Buddha. Created by a famous Japanese sculptor Masuzo Inui, the Buddha sits on a lotus flower and is the largest wooden Buddha to be carved in nearly 1000 years.
Fans of the TV show Lost may recognize the temple from some of the show's earlier episodes.
To the right of the temple, local artists and craftspeople typically have a few tables set up selling art, jewelry, and leis. A gift shop sells snacks, temple and Buddhist-related knick-knacks and souvenirs, books, and food to feed the fish.
Hours: 9-5pm daily
Tickets: $3/adult, $2/senior citizen, $1/child. Cash only.
Amenities: Parking, restrooms, picnic pavilion, gift shop
Address: 47-200 Kahekili Highway, Kaneohe, HI 96744
Phone: 808-239-8811
Website: www.byodo-in.com
Directions: From Honolulu/Waikiki, take the H-1 West toward Kailua/Kaneohe. Take the Likelike Highway exit and follow it north. Likelike Highway will cross through the mountains in an underground tunnel. Take the Kahekili Highway 83 exit, and follow it for three miles. Turn left into the Valley of the Temples cemetery. If a guard is at the entrance, the entrance fee can be paid right there. If not, follow the winding road up to the temple and the fee can be paid at that entrance.
Map