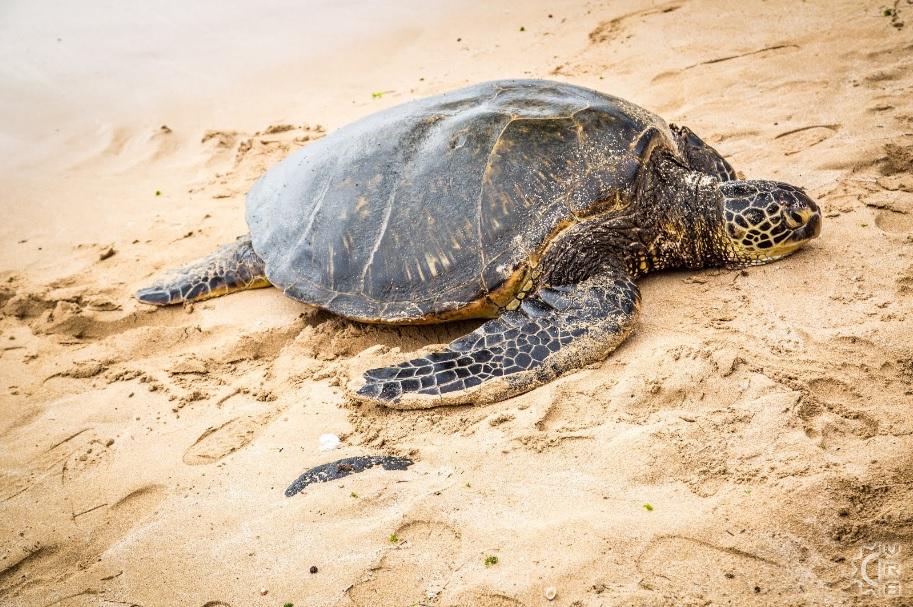 Description
Also known as Turtle Beach, Laniakea is an essential stop-off point for tourists traveling along Oahu's North Shore. The green sea turtles that frequent this section of the coast have made it a favorite, and year-round you'll find throngs of people surrounding the popular and protected turtles as they bask in the sun.

AT A GLANCE:
HIGHLIGHTS: Although most popular for turtle viewing, Laniakea Beach is a beautiful destination for other beach activities and enjoyment as well. The beach is huge and features a wide stretch of soft sand, with rocky areas at either end. Depending on the time of year, you may see swimmers, surfers, or snorkelers in the water.

ACTIVITIES: Turtle viewing and photographing, picnics, sunning, swimming, surfing, and snorkeling (depending on the time of year. The water can be dangerous!)

LIFEGUARD: NO

WARNINGS!: There is a lifeguard farther down the beach to the left, but not here. The shoreline is rocky in most areas and there are strong currents and a dangerous shorebreak. Use extreme caution if you decide to enter the water, particularly during the winter months. Don't touch the turtles!

AMENITIES: Parking along the side of the road. No restrooms or shower.

The Hawaiian Honu (turtle) is a beautiful sight to see. These magnificent creatures can weigh up to 700 pounds and live 80-100 years. They are fiercely protected in Hawaii, and there are almost always volunteers out on the beach to keep people at a safe distance from the turtles that come up on to the sand. The volunteers "rope off" the turtles and are on hand to answer questions, provide information, and keep over-enthusiastic tourists from getting too close.

The fine for touching sea turtles in Hawaii ranges from $10-25,000 and can include jail time, so be sure to enjoy them from a distance and stay on the safe side of the red line!

Closest town: Haleiwa

Directions: Laniakea Beach is located off of Kamehameha Highway, about halfway in-between Waimea Bay and Haleiwa. From Haleiwa, drive 1.5 miles and you'll see a large number of cars pulled off into a dirt area to the right (before Pohaku Loa Way). The beach is on the left. Use caution when crossing the highway, as traffic can be very heavy here.

Map