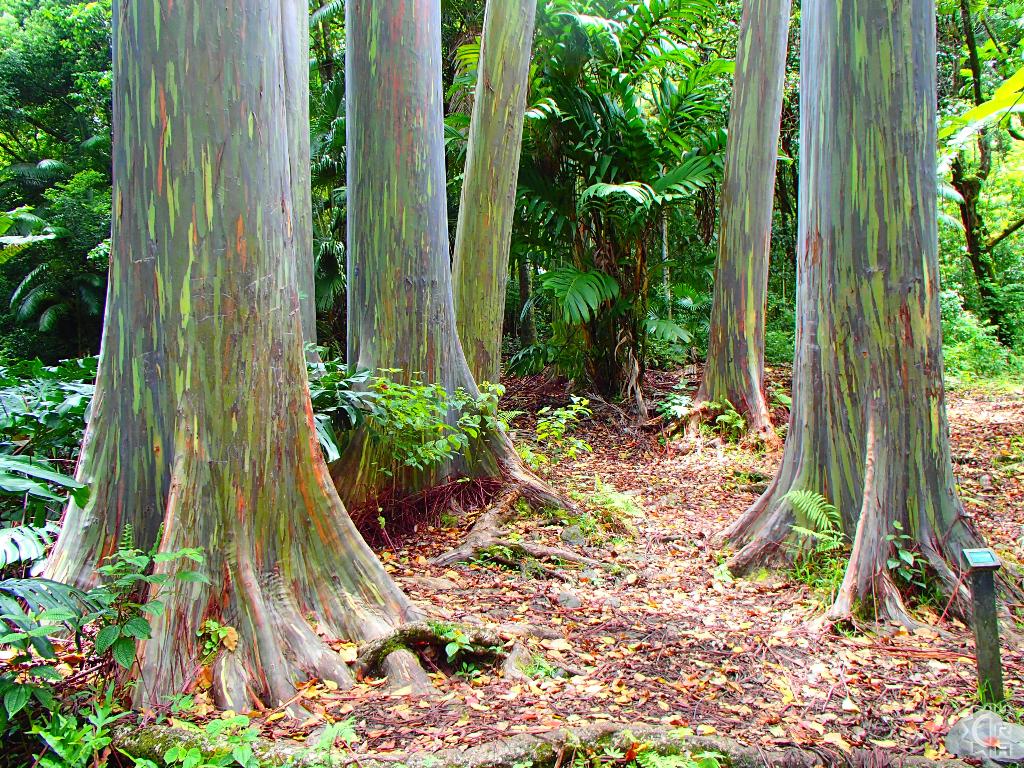 Description
This hike is a must for plant lovers and provides a great respite from the curve filled driving of the Hana Highway. It marks nearly the halfway point to Hana on the scenic highway between mile markers 16 and 17. An easy to follow paved pathway leads the way into a biological array of unique trees and plant species from all over the world situated along a fresh water stream. Take this walk into the arboretum and you will be rewarded with flower blossoms and photos in multitudes.

At a Glance:
Highlights: An easy to find and hiking location at the middle of the famous scenic drive to Hana, paved with little slope and easily accessible for safe hiking for all ages and abilities. Out of this world collection of flowers, trees and plants of all kinds.
Location: Just past the "Camp Keanae" YMCA camp between mile markers 16 and 17 on route 360. Parking is just past entrance to hike.
Activity Level: Mild to moderate depending on how far you walk. 1 mile round trip
Equipment: Sturdy shoes, rain gear, water, swim suit, and snacks
Warnings!: The upper portions of the trail are unmaintained and cross into river access areas that can be flash flood prone.
Reservations: None needed, open sunrise to sunset.
Cost: None

Where to start:
Access to this hike is on a "hairpin" turn along the Hana Highway about mile past the "Camp Keanae YMCA". Avoid parking on the curve, as just past it there are 2 pull off the road parking areas in the shade. This hike is not long, but is very captivating so bring your camera gear and perhaps a picnic or swimming gear. Make sure to take valuables with you and leave your rental looking empty of same, as there have been occasional but not frequent car rental break ins here.

Once you reach the trailhead, follow the path for about mile to enter the 6 acre arboretum. Founded in 1971, by forest ranger Henry C. Inciong, the collection of timber, ornamental and food producing plants is intended as an educational resource so plaques identifying the species and there place of origin are placed adjacent to each planting. The Australian Rainbow Eucalyptus and Indian Rudraksha trees are standouts and provide great picture opportunities.

As the paved path ends, walk toward the stream and proceed along the plantings of torch gingers toward the Queen Emmas Spider Lily. Just below this planting is a gorgeous swimming hole. If the stream is running clear you can see the bottom of this cool shallow pool, and wading and soaking are highly recommended. Note that if the stream water is cloudy or running with strong current the stream may be under flood conditions and should be avoided. Be aware of your foot steps in and around the stream as wet rocks can be slippery. No jumping, its shallow water.

The trail has become largely unmaintained above this area and muddy sloppy over grown conditions have taken over. Stick to the arboretum for safest hike.

Directions:
Take route 36, the "Hana Highway" East out of Paia. Follow for approximately 8 miles until the roads mile markers reset, changing into route 360. Follow route 360 just past mile marker 16 (approximately 1 hour drive) and look for "YMCA" on left side of road. Continue mile on 360 and pass the sharp curve, look for parking on the left side off the roadway. Trailhead has a brown sign with yellow lettering saying "Keanae Arboretum" and a yellow gate.

Map