Kaimana Beach aka San Souci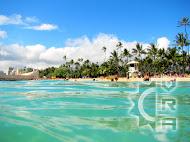 Kaimana Beach aka San Souci
Description
Kaimana Beach, located on a stretch of Kalakaua Avenue known as Gold Coast and is between the War Memorial Natatorium and the New Otani Kaimana Hotel (where it gets its name from), is the go-to beach for sand, sun, and socializing. Also known as San Souci after a lodge that stood nearby in the late 1800s, Kaimana Beach is not only rich in history, it is also abundant in amenities and offerings for the kama'aina and tourists alike.


AT A GLANCE:
HIGHLIGHTS: clean, sandy beach, grassy lawns great for picnics, iconic red windsock
ACTIVITIES: Swimming, surfing/kayaking/stand-up paddling, sunbathing, people watching, dining,
LIFEGUARD: Yes
WARNINGS: About 8 days after a full moon, this beach, along with a few other south facing beaches, experience an influx of jellyfish. Look and heed signs posted along the beaches and near the lifeguard towers. When in doubt, always ask a friendly local or the lifeguards.
AMENITIES: Bathrooms, benches/picnic tables, shower, shopping in the New Otani Kaimana Hotel

The residents who live near Kaimana Beach, whether in the million dollar cottages along the Gold Coast or the apartment buildings that skirt the base of Diamond Head, take advantage of the natural amenities, like Kapiolani Park and Kaimana Beach, that come for free with living in one of the more expensive neighborhoods on Oahu.

Kaimana Beach is a fun combination of "surf and turf": The turf being the a wide section of grassy lawn which is lined by coconut trees ideal for hanging hammocks on a lazy day, that many people use to barbeque or just to get together with a group of friends, and the surf being the beach and the surf spots (Old Man's and Rice Bowl) in front of it.

For as busy Kaimana Beach gets, there never seems to be that claustrophobic sense that sometimes comes with other crowded beaches like ones on Waikiki. Though at Kaimana, you are bound to run into a familiar face whether you want to or not. It is just that kind of place.

Kaimana Beach is also that kind of beach that offers a safe swimming area, protected from the surf by a wide reef making it popular with families and their young children. The swim from the beach through the Kaimana channel to the iconic red windsock (about 200m) is a popular workout for swim club members, those looking to supplement their cross-fit classes on the beach, or your ordinary Joe just wanting to get some exercise. People have been known to take part in zumba, yoga, and cross-fit classes to name a few, while diners at the Hau Tree Lanai at the bottom of the New Otani Kaimana Hotel look on and re-consider or thoroughly enjoy their desserts!

Parking is also an area to consider when planning for a day at Kaimana Beach. There are metered stalls along Kapiolani Park that may be very busy depending on the time of the day. You could also try your luck in the limited free parking stalls in the Kaimana Beach lot.

Directions:

From the airport head east, follow signs for the H1 freeway east.
Take H1-East to S. King Street exit (Exit 25A).
Slight left to S. King Street
Continue on to Harding Avenue
Right onto Kapahulu
Once at the end of Kapahulu, you may chose to park at the metered Honolulu Zoo parking or take a left onto Kalakaua Avenue and park at the Kapi'olani Park metered parking stalls or at the free stalls along the street (if you are lucky).

Map