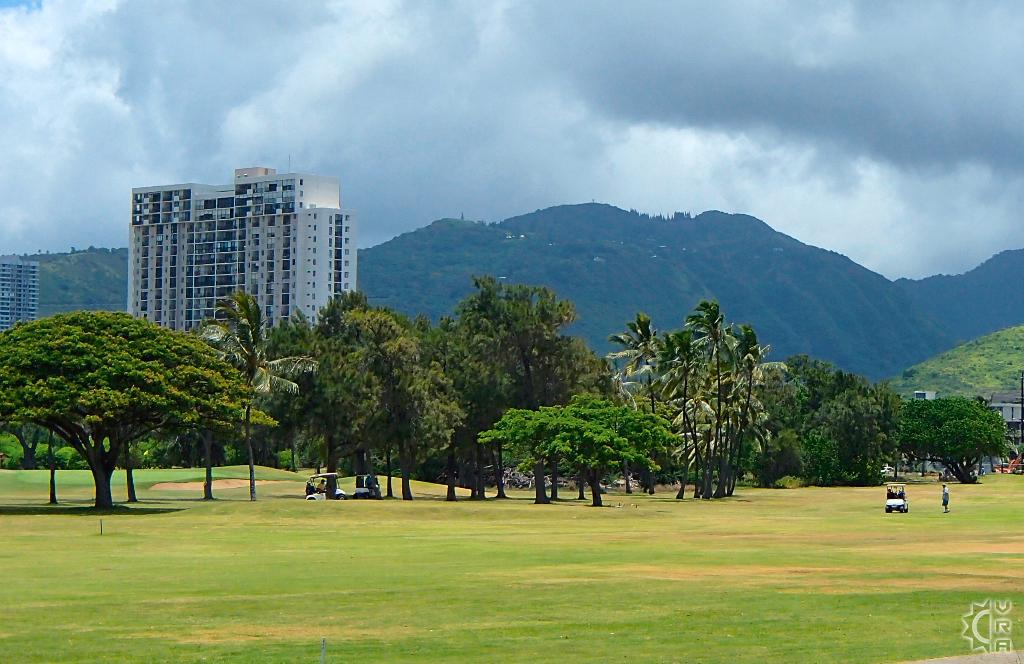 Description
This county municipal golf course is centrally located amidst the backdrop of Honolulu. The course is predominantly flat with little topographical change and plays along the Ala Wai Canal with views of Diamond Head.

Highlights: Golfing close to downtown Waikiki, with green mountain views setting the background as you enjoy golfing in paradise.
Challenges: In a way the flat terrain is a challenge because most golfers are used to playing on slope and hills.
Holes/Yardage: 18-Par 70- 5,861 yards White tees/5,095 Red tees
Price Range: $55 for 18 / $27.50
Location: Honolulu, Oahu, Hawaii
Bonuses: The most central course to Waikiki, has driving range, and concessions and a great price for a game of golf.

The centralized and convenient Ala Wai Golf Course is the closest course to Waikiki. Just a few blocks from the ocean, so those non-golfer's in your party can enjoy some time on the beach during your game. There is very little elevation change through out the course, but the play remains challenging because it is golf after all.

The shear volume of play on Ala Wai makes it the busiest course on the island. But you are in paradise, and you can rarely find a round for this price on island. This is the bonus of a county run course, they are designed for the local golfers to be able to play affordably.

Local's Tip:
Reservations are recommended, then relax and enjoy, golfing in paradise may require you to slow down a bit. Use the slower play as a way to remove pressure from your game, after all you are on vacation.

Contact information:
Website: http://www1.honolulu.gov/des/golf/alawai.htm
Phone: 808-733-7387
Email: CityGolf@honolulu.gov

Address:
404 Kapahulu Avenue
Honolulu, Hawaii 96815

Directions:
Off of Kapahulu Avenue between Date St. and Ala Wai Boulevard, along the Ala Wai Canal.


Map