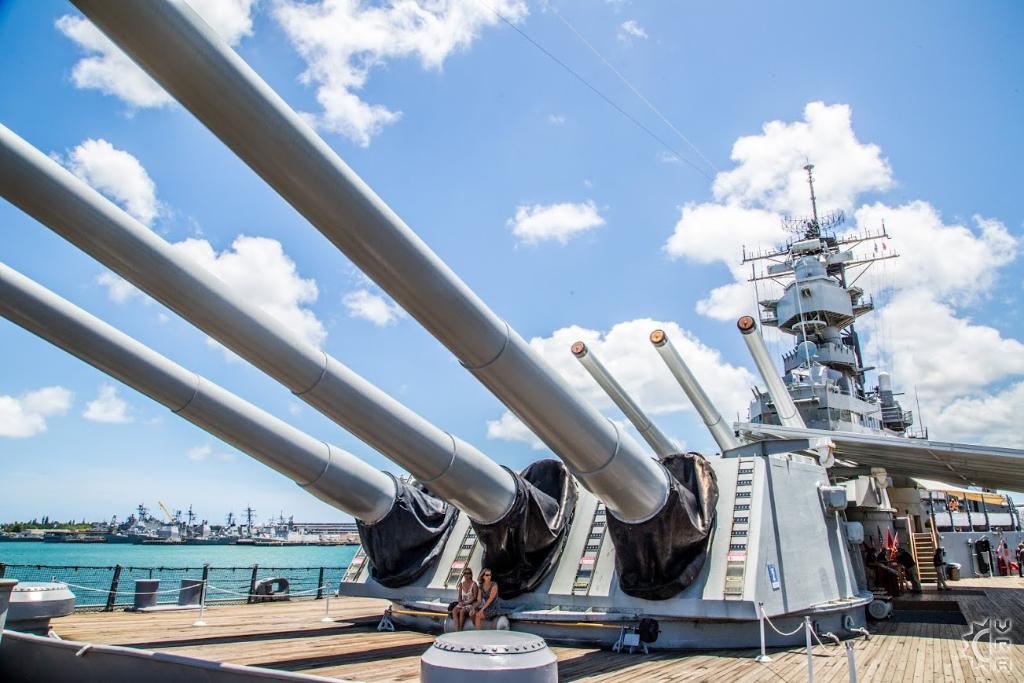 Description
Majestic and awe-inspiring, the USS Missouri is one of the most stunning and high-trafficked sights at Pearl Harbor. Commissioned on June 11, 1944, the USS Missouri is most famous for its role in World War II and particularly in the end of it. On September 2, 1945, representatives sent by Japan boarded the USS Missouri and signed surrender documents on what is now known as the 'Surrender Deck.' With that, World War II was brought to a close. The battleship's life was not nearly over, however. It also took part in the Korean War in 1950 and in Operation Desert Storm in 1991.
The last active battleship in the world, the USS Missouri was finally decommissioned in 1992. In 1999, it was opened to the public as a memorial in Pearl Harbor and since then, countless thousands of footsteps have made their way across the Surrender Deck as visitors from all over the world have come to witness its legacy.
AT A GLANCE:
HIGHLIGHTS: Visitors can get to know the USS Missouri in a variety of ways ranging from guided tours to self-guided explorations. There are several dining options and a gift shop located at the entrance to the memorial. The upper decks of the ship provide breathtaking views of Pearl Harbor, the coastline, and the mountains.
ACTIVITIES: Self-guided tours, guided tours, audio tours, events, dining, youth group "campouts"
WARNINGS: The USS Missouri is located on a military base, so you will be taken by shuttle on to the base and will have to leave your car parked back at the Pearl Har-bor Visitor Center. You will not be permitted to take any bags (purses included) onto base with you so be prepared to either leave them in your car or check them at the visitor center for $3 and carry necessary items in pockets. Cameras are allowed but again, not in bags.
Hours: Open daily 8am-4pm September - May, and 8am-5pm June-August
Tickets:
General Admission: Adults $25, Children (10-12) $12
Heart of Missouri Tour (including general admission): Adult $50, Children $25
Address: 1 Arizona Memorial Place, Honolulu, HI 96701
Directions: From Waikiki, take the H1 west. Follow the signs toward Pearl Harbor and the airport. Take Exit 15A (Arizona Memorial/Stadium) and follow the "Pearl Harbor Historic Sites" signs. These signs will lead to the Pearl Harbor Visitor Center. Once you park and purchase your tickets, a shuttle will take you on to the military base and drop you off at the battleship memorial's entrance.
Map