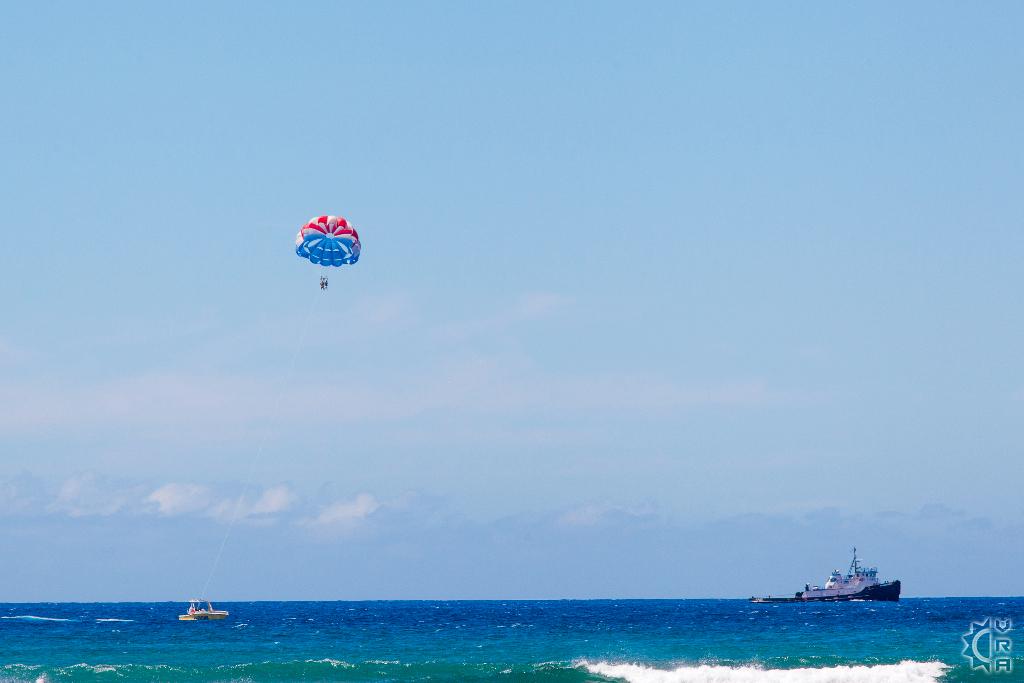 Description
If you're looking for a thrill to spice up your Hawaiian vacation, parasailing is the perfect activity for you. The adrenaline rush is a given, and bird's eye views of Oahu, from Waikiki down to Diamond Head, provide a unique perspective of this tropical paradise that most tourists and even locals never get to see.

AT A GLANCE:
The X-treme Parasail boat picks adventurers up at the dock behind the X-treme Water Sports kiosk at the Kewalo Basin. Located next to Ala Moana Beach Park just outside of Waikiki, the Kewalo Basin is a commercial boat harbor that is home to many of Honolulu's fishing and tourism excursion boats.

Once out of the Kewalo Basin, the boat heads to the open waters fronting Waikiki Beach and Magic Island to begin the first tour. There are 4 tour package options available, ranging from 5 to 11 minutes long and 500 to 1000 feet high. The "height" of the tour is determined by the length of the rope used. Beginning parasailers sometimes opt for a shorter rope so that they're a little closer to the boat, while other thrill-seekers want to fly sky-high at 1000 feet.

The boat heads out every hour from 8am to 6pm, with multiple tours each trip. At the end of a guest's parasail experience, they remain in the boat for the duration of the hour while the other members of the group have a turn to fly.

Reservations are recommended, particularly during busy summer or holiday months, to ensure that there is space. Reservations can be made either online or over the phone.

Hours:
Tours leave every hour from 8am to 6pm.

Cost:

X-treme Parasail - 1000 feet, 11 minute ride. $90/person
Deluxe Parasail - 850 feet, 9 minute ride. $83/person
Standard Parasail - 700 feet, 7 minute ride. $80/person
Beginner Parasail - 500 feet, 5 minute ride. $75/person


Phone:
808-737-3599

Website:
www.xtremeparasail.com

Address:
1085 Ala Moana Blvd, Honolulu, HI 96814

Directions:
From Waikiki, take Ala Moana Blvd toward the Ala Moana shopping center. Just past Ala Moana Beach Park, turn left into the Kewalo Basin. Parking is $1/hour.

Map